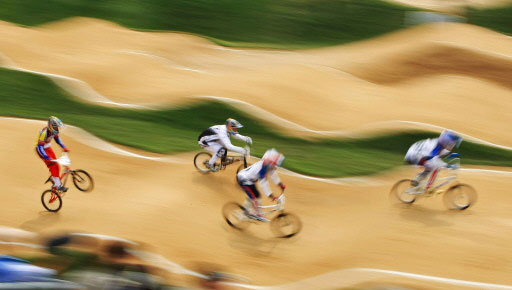 Riders compete in the men's BMX quarterfinals of the 2008 Beijing Olympic Games at the Laoshan BMX Venue, in Beijing on August 20, 2008.[Agencies]
BEIJING - Most of the big names made it through the early stages of the first Olympic BMX competition Wednesday, but not without a few spills along the way.
Three-time world champion Kyle Bennett of the United States was caught up in a crash in the third run of the quarterfinals and didn't complete the course. But he had enough points from the previous two runs to make it into Thursday's semifinals.
There were easier runs into the next round for current world champion Maris Strombergs of Latvia and world championship bronze medalist Sisifo Nhlapo of South Africa.
But the best performance of the day was given by Mike Day of the United States. He won all three of his quarterfinal runs and will have the choice of the starting lanes in the semifinals.
"Not to sound cocky, but everything's kind of coming naturally," Day said.
Day's compatriot Donny Robinson, the world's top-ranked male rider, also qualified from the same group.
Nhlapo has a strong chance of adding to the single silver medal that South Africa have won in the Olympics so far.
"I'm ecstatic. This is the Olympics," Nhlapo said after finishing top of his heat. "Everyone has got that dream in their head. I'm just ready for tomorrow."
The biggest name to fall was Luke Madill of Australia, who got caught up in a crash in the second run and finished last. His compatriot Jared Graves went through, however.
The women's competition was only at the qualifying stage, where riders compete singly against the clock, but it still had its share of crashes.
World champion Shanaze Reade of Britain came off on the first bend in the first round of qualifying and recorded the slowest time.
But she came back with a vengeance in the second round, recording the second-best time and ensuring a strong seeding for Thursday's medal competition.
"I don't know what happened. We looked at the videos and it's just one of those things," said Reade. "BMX can be unpredictable."
Asked if the crash in the first round had made her afraid for the second, she responded: "Never be afraid."
The top time was recorded by Anne-Caroline Chausson of France in the first run. But in her second run the world championship silver-medalist, in her final competitive race, also had to deal with a crash, arriving at the finish with her clothing ripped and dirty although she was apparently uninjured.
"All the girls are so motivated because it's the first Olympics for BMX," said Chausson. "It's all I've been thinking about for years."