OLYMPICS
/
Team China
---
China's Guo Shuang claims first cycling medal for hosts

Xinhua
Updated: 2008-08-19 20:10
BEIJING - Chinese Guo Shuang lived up to her expection to win the first cycling medal for the host after getting the bronze medal in the women's sprint here on Tuesday.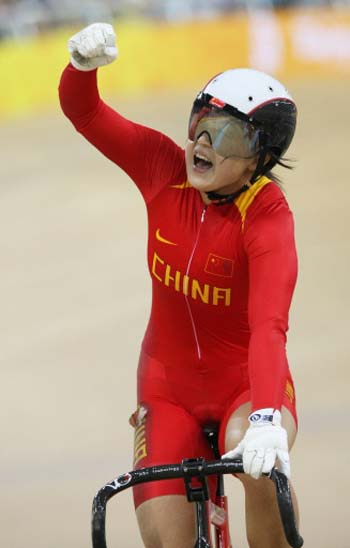 Track cyclist Guo Shuang of China celebrates after defeating Australia's Anna Merares in the 2008 Beijing Olympic Games women's sprint semifinals at the Laoshan Velodrome in Beijing on August 19, 2008. [Agencies] 
Guo beat Willy Kanis of Netherlands 2-0 to stand on the podium, while Victoria Pentelon of Britain took the gold after beating Austrialia's Anna Meares 2-0.
Falling off her bike in the deciding race in the semifinals, Guo bravely stood up to compete. She almost saw the chance to enter the final after beating the Australian, but the Chinese illegally maneuvered Meares out of the way and was thus relegated into the bronze medal contest.
Guo started cycling at age 13. She was sent to the World Cycling Training Center in 2002 to learn from French coach Sebastien Dulcus.
The 21-year old is being coached by Daniel Morelon, a French legend with four Olympic golds, who guided her to the silver in the sprint and keirin in the 2007 world track cycling championships.
China's best showing in cycling at the Olympics was at the Athens Games in 2004 when Jiang Yonghua won a silver medal in the 500m time trial, an event that was axed from Beijing in favor of BMX.