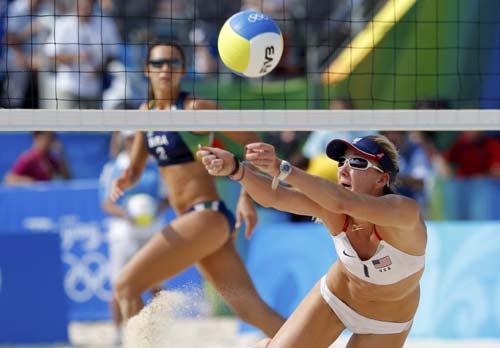 Kerri Walsh of the US sets the ball during their women's beach volleyball semifinal match against Brazil at the Beijing 2008 Olympic Games, August 19, 2008. [Agencies]
BEIJING -- The smile returned to Kerri Walsh's face long before the match was officially over, and the player known as "Six Feet of Sunshine" was back to her usual, bubbly self.
"I wish I could smile when I'm nervous. I can't even talk," Walsh said after she and Misty May-Treanor advanced to the beach volleyball gold medal match with an easy semifinal victory over Brazil. "I wish I could just forget about it. I don't want to be 'grumpy-pants."'
Walsh had no reason to worry on Tuesday, when the defending gold medalists easily defeated Renata and Talita 21-12, 21-14 for their 107th consecutive victory and the guarantee of at least a silver. The United States has now reached the podium in all four Olympics since beach volleyball was added to the games in 1996.
"I think they are going to be the Olympic champions, for sure," Renata said. "I think nobody is going to beat them. We are happy to go for the bronze."
Just as she did four years ago, May-Treanor sprinkled some of her mom's ashes on the sand after the semifinal, saving another half-portion for a similar ceremony at the gold medal game.
"You can't leave home without her," May-Treanor said, tapping the plastic film canister she used to carry Barbara May's remains. "But she'll stay here."
Walsh and May-Treanor will play top-seeded Tian Jia and Wang Jie, who beat the other Chinese team of Xue Chen and Zhang Xi 22-24, 29-27, 15-8 in a grueling, 1 hour and 14 minutes.

Xue and Zhang will play Talita and Renata for third place.
May-Treanor predicted a Brazilian victory.
"I think their destiny is the bronze," she said. "I told them, 'I'm going to see you up on the podium,' and we'll be sitting side-by-side again."
Until then Walsh's husband, fellow pro beach volleyball player Casey Jennings, knows not to take it personally if she goes grumpy.
"I'm nervous and grumpy, too," he said. "But I'm not playing. I've got to be the nice guy."
May-Treanor's mother, who died of cancer in 2002, was in the middle of chemotherapy when she went to Sydney to see her daughter finish fifth in the 2000 games. Barbara May didn't live long enough to see Misty win the gold medal in Athens.
She was there anyway, May-Treanor said, both in her physical remains and in the form of an angel she tattooed on her shoulder in her mother's memory. May sprinkled some of Barbara's remains on the court in Athens and took some home.
Four years later, the routine has become familiar for the 31-year-old Californian who is the most successful American woman in beach volleyball history, with 97 career victories on the domestic and international pro tours. May-Treanor and her family are as likely to laugh as cry when thinking about Barbara now, and Misty jokes about what portion of her mother is in the vial.
"It was hard at first, but now I can talk about it freely," she said. "Obviously, it's not easy. But time makes it better."