He Wenna gave China its first-ever Olympic gold in trampoline Monday, wowing the home crowd with her flips and twists.
When her score of 37.80 came up, the flag-waving fans erupted into a frenzy of cheers.
Karen Cockburn of Canada scored a 37.00 to get silver. She had finished second in Athens and third in Sydney.
Ekaterina Khilko of Uzbekistan got the bronze with a 36.90.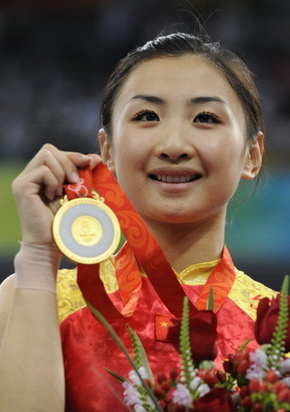 China's He Wenna shows her gold medal after the women's trampoline final of the artistic gymnastics event of the Beijing 2008 Olympic Games in Beijing on August 18, 2008. China's He Wenna won the gold, Canada's Karen Cockburn the silver and Uzbekistan's Ekaterina Khilko the bronze. [Agencies]
"I didn't think I could win the gold medal at all before the Games, since I'm still so young and lack experience," said the 19-year-old He, who had helped the team win the World Championships last year. She had finished fourth in the individual event.
He entered the final after leading in qualifying. Her better-known teammate Huang Shanshan failed to make the final.
Huang had won bronze in Athens four years ago when China made its Olympic debut in the sport.
"It's a pity that Huang didn't reach the final. She is always my role model," He said. "But her failure didn't affect me. I just told myself to do all the jumps well."
Trampoline was not He's first sport. She started as a gymnast, at age 7, but switched to trampoline training three years later.
Although she's made the breakthrough for China, He remained modest.
"I've never thought of taking over Huang's position to lead China's trampoline," she said with a smile.
Canadian Cockburn was satified to be on the podium again.
"Coming out with an Olympic medal is a great result," she said. "I knew my score wasn't the greatest."
Khilko won the first medal for her country Uzbekistan.
"I'm happy. I didn't think I could stay in third place as there are strong athletes from Russia, Ukraine and China," she said. "It was totally unexpected because all of my competitors were strong. It was a big surprise for me. This medal has a special meaning for Uzbekistan, because it is our first in trampoline."
Defending Olympic champion Anna Dogonadze of Germany fell on the mat in the middle of her routine and finished last among the eight finalists.
Agencies contributed to the story