China's world No 2 beach volleyball duo Tian Jia and Wang Jie are a perfect pair, both on the sand and in life.
"We are sort of like a couple in life," said 24-year-old Wang, an Urumqi native who is enjoying her Olympic debut. "We are important to each other. Our tempers also fit in well with each other."
Wang looks after Tian, even keeping an extra tube of sunscreen for her partner, who sometimes forgets.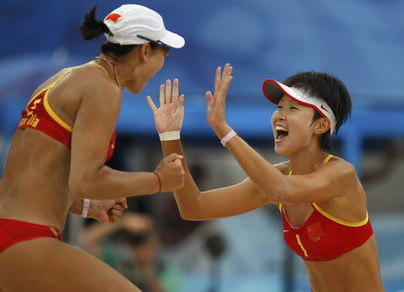 Tian Jia (R) and Wang Jie celebrate their victory over Austria's Stephanie and Doris Schwaiger during their women's quartefinal round beach volleyball match at the Beijing 2008 Olympic Games, August 16, 2008. [Agencies]
"I'm sort of less thoughtful than her. Sometimes she also needs to look after me," said Tian, 27, who paired with Wang Fei at the Athens Games.
Now, Tian and Wang, who have paired since 2006, are about to play their first Olympic semifinal today.
Their opponent will be another Chinese pair, Xue Chen and Zhang Xi, who rank No 4 in the world, which means no matter which pair makes it to the final on Thursday, China has secured at least a silver medal in beach volleyball for the first time since the sport's Olympic debut in Atlanta.
With Wang patrolling the net and the veteran Tian backing her up, the pair has finished outside the top 10 in a tournament only twice in the last two FIVB World Tour seasons. They have held their No 2 ranking for two years.
Their international success has also helped boost beach volleyball's popularity in China.
"Our goal has been to reach the quarterfinals and now we did it. Next, we are just going to ignore all the pressure and take things as they come," said Wang, who has played beach volleyball since she was 17.
China's other team, rising stars Xue/Zhang, also won all three group matches before beating Cuba and the US to reach the semifinals. Though they may be less experienced than some other top teams, their size has helped them greatly on the court. The pair has won four World Tour titles since 2006 and placed fourth at last year's World Championships in Gstaad, Switzerland.
That pair is looking forward to the all-Chinese duel.
"We will still play the same. No matter who wins, the victory will be China's," said 19-year-old Xue, a native of Fujian province.