From 1988 to 2008, three generations of Chinese "diving queens" - Gao Min, Fu Mingxia and Guo Jingjing - dominated the women's springboard.
Throughout their careers, the three diving stars demanded attention both in and out of the pool, each one a force to be reckoned with in their respective eras.
Born in Zigong, Sichuan province, Gao learned to swim at the age of 4. When she was 9 she started gymnastics training but was soon spotted by a diving coach, who persuaded her to switch sports.
She won her first major international competition on the 3m springboard at the 1986 World Championships, kicking off six years of diving domination.
She was undefeated in world meets in 3m springboard between 1986 and 1992, including Olympic gold-medal wins at both the 1988 Seoul Games and 1992 Barcelona.
Her gold at the Seoul Games was China's first Olympic diving gold. She was also the first female diver to surpass the 600-point mark in 3m springboard - she did it three times.
When Gao retired after the 1992 Barcelona Games, Fu was right there to inherit the throne.
Like her predecessor, Fu also had a foundation in gymnastics, which she began at the age of 5. She switched to diving and claimed her first world title on the 10m platform at the 1991 World Championships when she was 12, making her the youngest athlete in history to win a world championship in any sport.
Her platform dominance only increased, as she went on to become China's youngest Olympic gold medalist at the 1992 Barcelona Games.
Fu won the 10m platform gold in both the 1993 and 1994 World Championships and the 3m springboard gold in the 1995 World Championships.
In 1996, when Fu was 17, she captured gold medals in both the 10m platform and the 3m springboard at the 1996 Summer Olympics in Atlanta. In doing so, she equaled the achievements of Germany's Ingrid Kraemer at the 1960 Rome Olympics, becoming only the fourth female to capture both titles.
She later withdrew from competition to study at Tsinghua University, but returned to training with her coach Yu Fen before the 2000 Olympics.
Fu successfully defended her women's 3m springboard gold at the Sydney Games and added a silver in the synchronized event with her young teammate Guo.
After Fu's real retirement, it was Guo's turn to lead China's diving dream team.
After winning two springboard gold medals in Beijing, her fifth and sixth, Guo has surpassed Fu to become China's most decorated female diver.
But Guo remains modest and respectful of the past generation.
"I think both Gao and Fu are two of the greatest divers in history," said Guo, who, at 26, is four years older than Gao or Fu, who both retired at 22. "I never thought of winning more medals than them."
After her retirement, Gao studied and ran a diving club in Canada, where she enjoyed her quiet life out of the media spotlight and spent time with her family. She returned to China with her husband in 2005.
But the younger generation has had a more difficult time keeping a low profile due to the size of their stardom.
Fu, for example, has constantly been in the headlines since the Sydney Games. Her 2002 marriage to former Hong Kong financial secretary Anthony Leung, was one of the biggest news events of the year.
She is now a mother of three and has been out of the public eye for a while.
Guo seems set to follow in Fu's footsteps. Her love affair with Kenneth Fok, the eldest son of Timothy Fok, a rich Hong Kong businessman and a member of the International Olympic Committee, has been one of the media's favorite stories this year.
Guo has said the Beijing Games will be her last Olympics, but after winning her medals she refused to call it an end, even though she is the oldest diver on the team.
"I have won all the gold medals I could after the 2004 Athens Games, after which I could have retired. But I kept on to defend the title on home soil in 2008," she said.
"During these four years, I found I really love the sport and like the feeling when I'm standing on the springboard. I don't want to leave diving."
Guo Jingjing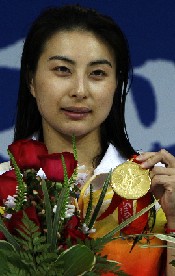 Date of birth: October 15, 1981
Height: 1.62m
Weight : 48kg (current)
Place of birth: Baoding, Hebei
How she started
Her parents sent the then 6-year-old Guo to an amateur sports school because she was too frail, where she started learning.
Major achievements
Four Olympic gold medals (3m platform individual and synchronized, 2004 and 2008 Games), six world championship titles (2001, 3m platform individual and synchronized; 2005, 3m platform individual and synchronized; 2007, 3m platform individual and synchronized)
Honors
She is the most successful diver in World Championship history. She has surpassed Fu as the most successful Chinese diver in the Olympics after winning both 3m springboard individual and synchronized at the Beijing Games.
Personal life
She was once expelled from the national team for excessive commercial activities, but was later taken back after making a public apology. She made headlines with a paparazzi shot of her dining with Kenneth Fok Kai-kong, the grandson of the Hong Kong business tycoon Henry Fok.
Endorsements
She is probably the richest female athlete in China by endorsing dozens of brands including McDonald's, Toshiba and Avon, and reportedly has an annual income of 15 million yuan ($2.24 million).
Fu Mingxia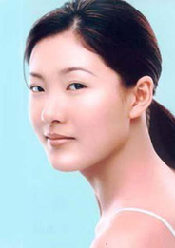 Date of birth: August 16, 1978
Height: 1.60m
Weight (as an athlete): 48kg
Place of birth: Wunan, Hubei
How she started
She switched from gymnastics to diving at age 8 after she was told she did not have the talent to become a good gymnast.
Major achievements
Four Olympic gold medals (1992, 10m platform; 1996, 3m springboard and 10m platform, 2000, 3m springboard), two world championship titles (1991, 10m platform; 1994, 10m platform)
Honors
Fu won her first world championship title in 1991 at age 12, becoming the youngest world champion ever. In Barcelona, Fu became the youngest Olympic champion ever when she won the 10m platform at 13. She captured both 10m platform and 3m springboard golds in Atlanta, becoming only the fourth woman to capture both titles.
Personal life
She married Antony Leung, former financial secretary of the government of Hong Kong, on July 15, 2002 in Hawaii. Fu moved to Hong Kong after marriage. She is now expecting her third child.
Endorsements
She signed a 5-million-yuan ($750,000) deal with Coca-Cola to endorse Sprite in 2001.
Gao Min
Date of birth: September 7, 1970
Height: 1.62m
Weight (as an athlete): 47.5kg
Place of birth: Zigong, Sichuan
How she started
Discovered at age 9 by coach Yang Qiang while she was playing around in a swimming pool after gymnastics training.
Major achievements
Two Olympic gold medals (1988, 3m springboard; 1992, 3m springboard), three world championships (1986, 3m springboard; 1991, 1m and 3m springboard)
Honors
Gao is the only female diver to surpass 600 points in 3m springboard and did not lose a single international event since representing China at a tournament in New Zealand in 1983. Gao was chosen as the World Best Diver of the Year by US magazine Swimming World (1987 - 1989) and the Woman's World Springboard Diver of the Year for a record seven consecutive years (1986 - 1992).
Personal life
A mother of two boys, Gao is involved in charity organizations and is married to a wealthy Chinese businessman from Wenzhou.
Endorsements
She did not endorse any product during her athletic career. Now she is the ambassador for Australian mining giant company BHP Billiton.