OLYMPICS
/
Related Stories
---
Jamaican Fraser wins women's 100m gold medal

Xinhua/Agencies
Updated: 2008-08-17 22:26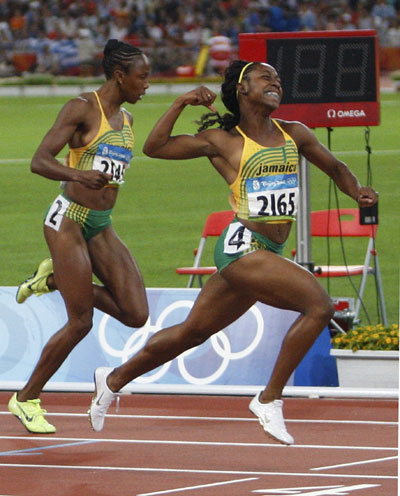 Shelly-Ann Fraser of Jamaica celebrates winning the women's 100m final of the
athletics
competition ahead of Sherone Simpson of Jamica (L) in the National Stadium at the Beijing 2008 Olympic Games August 17, 2008.[Agencies]
BEIJING--Shelly-Ann Fraser led the other two Jamaicans to win all the women's 100 meters medals on Sunday evening at the Beijing Olympic Games.
Fraser clocked her personal best in 10.78 seconds before Sherone Simpson and Kerron Stewart finished, both in 10.98, and shared the silver.
Simpson said, "We made history. Just like yesterday Bolt set a new world record. We are all great athletes and I'm very excited about the tremendous achievement we've made for our country."
"Today's victory boosts my confidence to win the 200m. We will also do well in the 4x100m. I believe we can beat the Americans," she said.
Commenting on Jamaica's medals sweep, Stewart said, "I don't know if I should cry, smile, jump. I think this is a fabulous thing for the three of us to win the medals and for Jamaica to get one, two, three. What else can you say?"
The Jamaican squad smashed the American fleet joined by Lauryn Williams, Muna Lee and Torri Edwards, who were hot candidates for the title before the Games.
The Jamaican women replayed the legend created by their countryman Usain Bolt on Saturday night on the same track in the Olympic main venue. Bolt sliced the men's 100m world record by three hundredths of a second to a stunning 9.69 seconds.