BEIJING - China clinched the women's Olympic team table tennis title here Sunday, after fighting off a strong challenge from Singapore to win the final 3-0.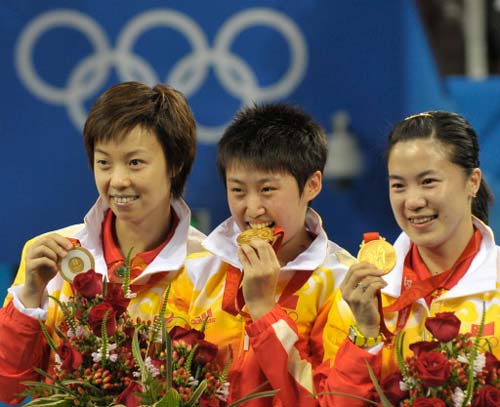 China's table tennis players Zhang Yining (L), Guo Yue (C) and Wang Nan pose with their gold medals after defeating Singapore's team to win the gold medal during the women's team table tennis final match of the 2008 Beijing Olympic Games at the Peking University gymnasium in Beijing on August 17, 2008. [Agencies] 
It was the 17th gold medal that China won at the Olympic table tennis competition since its national sport was introduced at the 1988 Seoul Games.
The star-studded Chinese women pushed, chopped and smashed, proving too powerful for Singapore before an enthusiastic crowd of more than 4,000, though both world number one Zhang Yining and veteran Wang Nan dropped a game.
Finishing second, Singapore won its first Olympic medal in 48 years since a silver by weightlifter Tan Howe Liang in 1960.
Wang, who is often slow in finding her rhythm, failed to take a lead but brushed aside Feng Tianwei 9-11, 11-3, 11-8, 11-6. The team title was the fourth Olympic gold for Wang, the most decorated players in table tennis.
The battle between Zhang and Beijing-born Li Jia Wei of Singapore was full of long rallies across the table, with Zhang winning 9-11, 11-3, 11-4, 11-7. The singles and doubles gold medalist in Athens then paired with world champion Guo Yue, quickly finishing off Li and Wang Yue Gu 11-8, 11-5, 11-6.
Both China and Singapore had steamrolled over all before them with stunning victories since the start of the Olympic team table tennis tournament, which take the place of the doubles. They didn't meet each other until the final.
Chinese women, whose triumph seemed to have an air of inevitability, easily took down Hong Kong of China 3-0 in the semifinal, while Singapore slew a tenacious South Korea 3-2.