OLYMPICS
/
Latest Medals
---
Nadal claims Olympic gold with devastating win over Gonzalez

Xinhua
Updated: 2008-08-17 20:19
BEIJING - Unstoppable Spaniard Rafael Nadal beat Chilean 12th seed Fernando Gonzalez in the men's singles final of the Beijing Olympic tennis tournament on Sunday.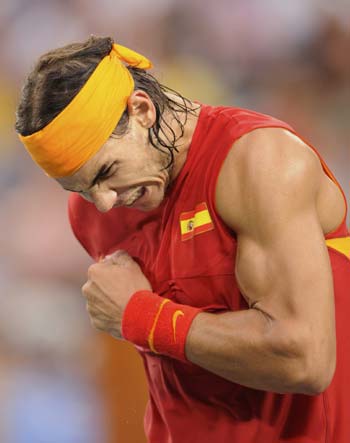 Rafael Nadal of Spain reacts during his men's singles final tennis match against Fernando Gonzales of Chile at the Beijing 2008 Olympic Games August 17, 2008. [Agencies] 
The title came as the icing on the cake for Nadal, who has been ranked No. 2 in the world for more than three years but will take over the No. 1 spot on Monday.
In spite of the pair splitting the previous six meetings in career, the match turned in Nadal's favor from  the very beginning, with the bull-like Spanish youngster drawing the first blood at 6-3.
Gonzalez, who has won both of their matches on hardcourt, fought back into the game with his powerful forehand in the second set. He should have closed out the set when he was leading 6-5, 40-15 on Nadal's serve, but the Spaniard scored four straight points to force a tiebreak, where the Chilean was troubled by unforced errors.
Gonzalez's forehand missed target three times to give Nadal a 3-1 lead in the tiebreak and the Spaniard won it at 7-2 after another Gonzalez's long forehand.
Gonzalez lost concentration in the third set, dropping an early service game to trail 3-1 behind. Although he beat three match points in the eighth game on his own serve to stay in the run, Nadal still won it 6-3 on  his fourth match point.
Despite being a tennis great, Spain never claimed Olympic gold medal in the sport before the Nadal triumph. Two Spanish men have appeared in the Olympic men's singles final but both left with silver medals - Jordi Arrese lost to Marc Rosset of Switzerland in the 1992 final and Sergi Bruguera lost in the 1996 final to American Andre Agassi.
And it also means the Spaniard has a better chance to claim the Golden Slam - four Grand Slams plus an Olympic gold medal. He now has to work on the U.S. Open and Australian Open after winning his fourth consecutive French Open title and his first Wimbledon trophy this year.