OLYMPICS
/
Latest Medals
---
DPR Korean Hong Un Jong wins women's vault gold

Xinhua
Updated: 2008-08-17 19:51
BEIJING - Hong Un-jong from the Democratic People's Republic of Korea (DPRK) won the Olympic title in women's vault on Sunday, bringing the country its first gymnastic gold at the Beijing Olympics.
It was the second gymnastic gold won by the DPRK since 1992.
Although Hong stepped to the left in landing in her second movement, the difficulties of her two routines all reached the zenith of 6.5, the same as Chinese vault queen Cheng Fei. The two jumps gave Hong 15.650 points, leaving a margin of 0.075 with silver medalist Oksana Chusovitina from Germany.
Hong's coach gave her a huge embrace and patted her back after she finished the routines.
Cheng failed to control her balance after a series of somersaults over the vault and landed on her knees in her second routine. The fatal mistake forced her to miss the chance to bring China the long-anticipated Olympic gold in women's vault, after her male counterpart Zou Kai captured the title in men's floor exercise several minutes before.
Cheng finally accumulated 15.562 points and won the bronze in the event.
Anna Pavlova, the hopeful from Russia, made a mistake in her second jump and only gained a total of 7.812 points at last to stand at the eighth place.
In the vault qualification, Cheng took the first place with a difference of 0.187 point with Hong.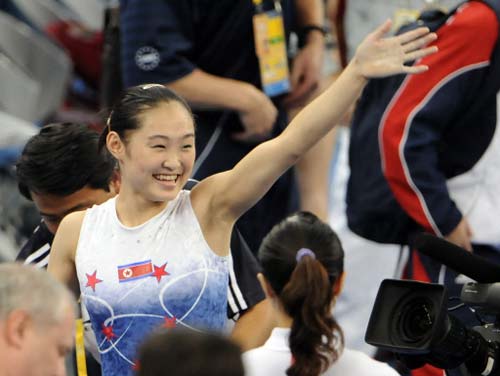 North Korea's Hong Un-jong (L) waves after winning the gold in the women's vault final of the artistic gymnastics event of the Beijing 2008 Olympic Games in Beijing on August 17, 2008. North Korea's Hong Un-jong won the gold, Germany's Oksana Aleksandrovna Chusovitina the silver and China's Cheng Fei the bronze. [Agencies]