OLYMPICS
/
Newsmaker
---
Wrestling bronze medal of Swedish Abrahamian stripped by IOC

Xinhua
Updated: 2008-08-16 22:06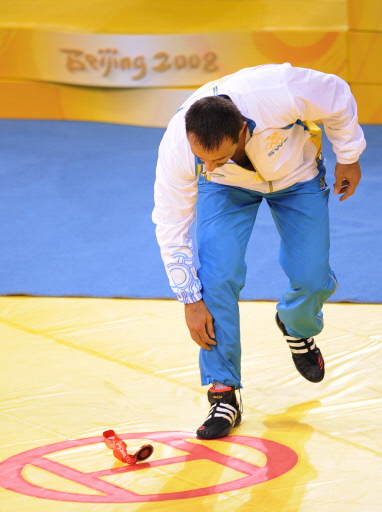 Greco-Roman wrestler Ara Abrahamian of Sweden places his bronze medal at the center of the competition mat in protest of the result in the men's Greco-Roman 84kg wrestling category during the 2008 Beijing Olympic Games on August 14, 2008. [Agencies]
BEIJING -- The International Olympic Committee (IOC) decided to take away the bronze medal won by Swedish wrestler Ara Abrahamian at the Beijing Olympic Games, according to a decision made by the IOC Disciplinary Commission here on Saturday.
The IOC commission said Abrahamian has been disqualified from the event of the men's Greco-Roman 84kg wrestling, and no promotion from a fifth-placed wrestler will be announced either as Turkey's Nazmi Avluca had already won one of the two bronzes offered in the category.
Abrahamian, runner-up in Athens, discarded his bronze medal at the awarding ceremony on August 14 in a protest against his semi-final defeat to eventual winner Andrea Minguzzi of Italy.
"This is my last match. I wanted to take title, so I consider my Beijing trip a totally failure," said the 33-year-old.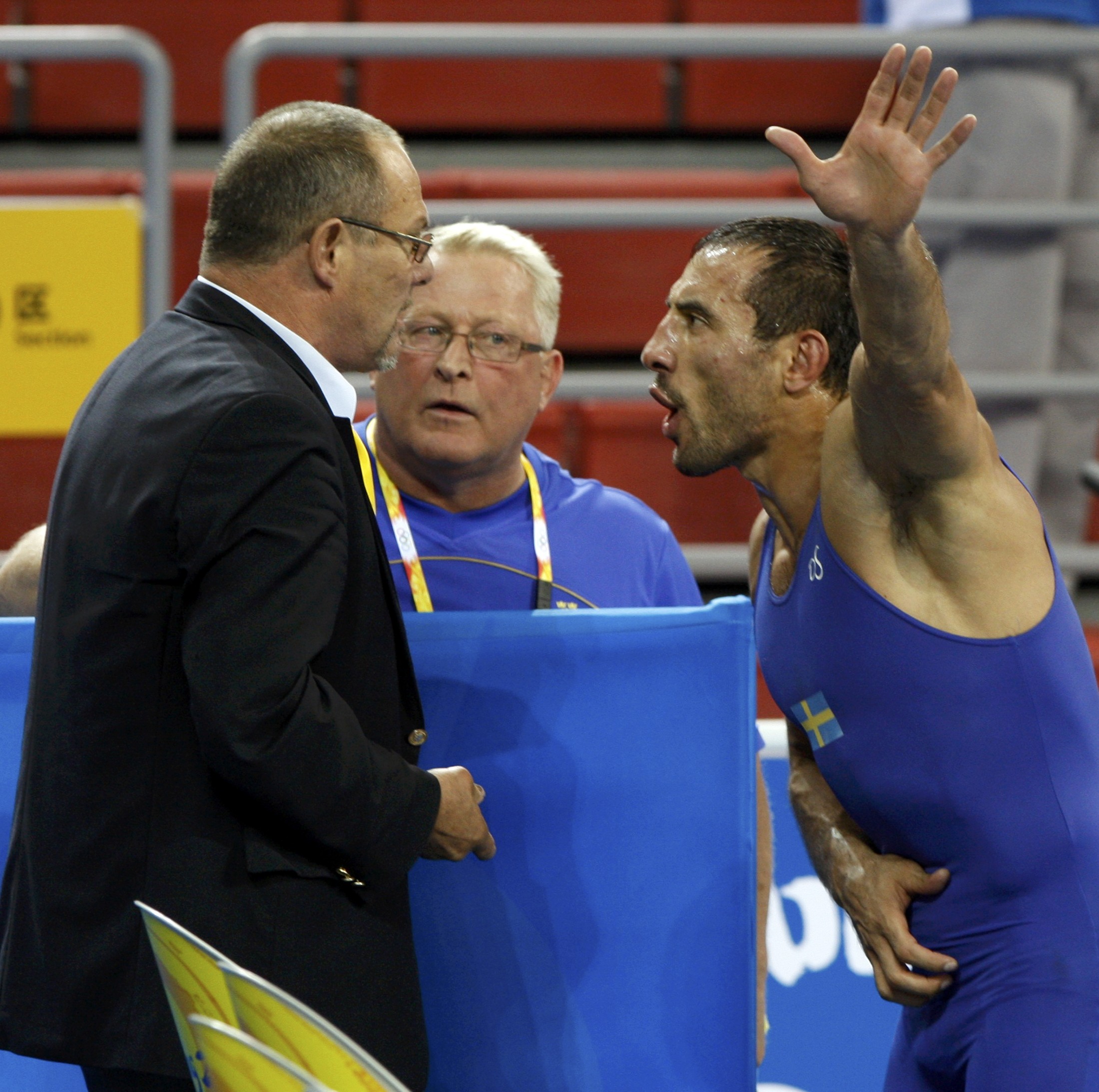 Ara Abrahamian of Sweden (R) argues with referee Jean-Marc Petoud of Switzerland (L) as his coach Leo Myllar watches after Abrahamian's 84kg men's Greco-Roman wrestling semi-final match against Andrea Minguzzi of Italy at the Beijing 2008 Olympic Games August 14, 2008.[Agencies]
During his semifinal bout, judges ruled in favor of his rival and eventual winner Minguzzi, which enraged Abrahamian who then confronted officials and left the arena fisting an aluminium barricade.
"I refused to participate in the bronze medal match," said the angry Abrahamian. "It was my friends who begged me and I decided not to disappoint them, so I wrestled (in the bronze medal bout)."
After winning the bronze, Abrahamian took the medal off his neck at the ceremony, put it in the middle of the mat and then left straightly.
Winner Minguzzi said his celebration had been spoiled.
"Certainly one can always question decisions made in the course of refereeing, but in sports it is appropriate to show sportsmanship and accept the results," he said.