(August 13, 2008)
Liu Xuan, captain of the women's gymnastics team that finished third at Sydney 2000, reflects on the gold medal which has alluded China for 52 years.
As I sit in front of my computer, pent-up thoughts and emotions from the last two days come spilling out.
I write this to honour the great success of the Chinese men's and women's gymnastic teams who have both won gold in this games.
The victory is particulalry sweet because the women's gymnastics team has never won gold before.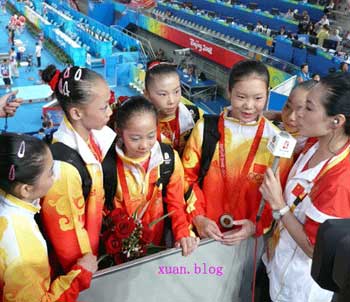 Liu Xuan, gold medal winner on the balance beam at the 2000 Sydney Olympic Games, interviews women's gymnasts August 13, 2008. China won the women's gymnastics team gold medal at the Beijing Olympic Games in Beijing on Wednesday.[sohu.com]
It's unity that has made our dream come true. Coaches who devote themselves and former gymnasts who remain supportive of their successors and provide great material and emotional support to the team- including Li Xiaoshuang and Li Ning- have relieved smiles today.
I regret that we couldn't grab a team gold medal when I was the captain of the national women's gymnastic team in 2000.
We can never forget those days when we encouraged each other throughout the competition, but the umpire scored us low and we shook hands with the gold medal winners. But today, we saw our national flag hoisted from the podium.
We had the best gymnasts. We were favored by the umpires. And we saw our coaches nod proudly at the team's performance.
It not only shows the improvement we've made in gymnastics, but it is also evidence of the country's strength.
I met Svetlana Khorkina [winner of five world titles, five European titles and two Olympic gold medals], my long-time friend and opponent, in the gym today. We have both started new lives since retirement.
Peace is the centerpiece of the Olympic spirit. We could be opponents on the court and good friends in life. I wish Khorkina and Nemov, our former opponents, happy lives.
China, Go! 
Introduction of Liu Xuan
Liu Xuan won gold on the balance beam at the 2000 Sydney Olympic Games. She is now a TV sports commentator for HK TVB.
http://liuxuanblog.blog.sohu.com/97175582.html