When French fencing coach Christian Bauer spotted Chinese fencer Zhong Man in 2006 at China's training base in a western suburb of Beijing he didn't think much about the 24-year-old, though he liked his speed and explosive power.
"He was like a wild dog," Bauer said of the old Zhong, who stunned the fencing world on Tuesday by winning the men's sabre gold.
"He thought faster is better, but that is totally wrong in the fencing world. He needed to know what real fencing was."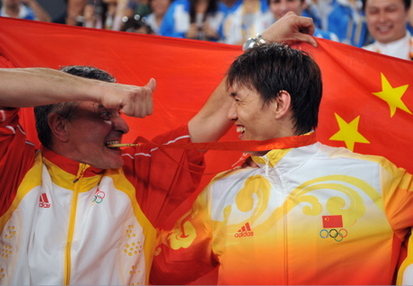 China's Zhong Man (R) holds his national flag as he celebrates with China's French coach Christian Bauer winning the Men's individual Sabre final tournament on August 12, 2008 at the Fencing Hall of National Convention center as part of the 2008 Beijing Olympic games. [Agencies]
Bauer says everyone on the Chinese fencing team has a similar misunderstanding.
"They mistakenly think everything about fencing is built on speed. They play very fast and then wait until rivals make mistakes. It's totally wrong; it's just the opposite."
As a legendary fencing figure, Bauer knows what makes a champion. The 57-year-old has trained hundreds of elite athletes. His pupils have won world titles (1997 and 1999), Olympic team silver (2000), and Olympic gold (2004).
So when China asked him in 2006 to help it win its second Olympic fencing gold in 24 years, Bauer eagerly signed a two-year contract because he felt in such a vast land, all that was needed was the winning key to unlock the potential fencing talent.
"I discovered better athletes here so I decided to come to China," he said.
Before Bauer was hired, China had won five Olympic silver medals following Luan Jujie's women's foil gold at the 1984 Los Angeles Games. China's fencers made three title matches in 2004, but were never able to secure the gold.
"They asked for an Olympic gold medal but I only had two years to do that," Bauer said. "It was a big challenge. But Chinese players are physically very strong and technically not bad. I thought I could teach them to learn real fencing in two years."
But Bauer needed to address other problems before he could put the polish on the Chinese team. He found the Chinese were training too hard at 10 hours a day, seven days a week. They even kept training while they were injured.
"They work too much. My job was to stop this," Bauer said. "It is very important to enjoy fencing and have fun."
He gave the fencers more days off and took them on a hike to a small mountain near China's training base. His strategy proved effective, as his team went on to dominate the 2006 Asian Games and helped the coach win the hearts of Chinese officials.
After finding a good balance between work and rest, Bauer started working to improve the team's technique, its weakest link.
"Their previous understanding of fencing was too shallow. If they can better understand, they can be very powerful," he said.
"Fencing is about different speed. Just feel the body and feel the speed."
His efforts paid off in 2007 when he coached women's fencer Tan Xue, who had lost the final in Athens, to five World Cup tournament titles and the world No 1 spot. He also helped Tan's boyfriend Wang Jingzhi win China's first-ever World Cup tournament title in men's sabre that year.
But he knew that was not yet good enough to bring China an Olympic gold - China's fencers needed strengthen their minds.
"I would say being a good fencer is 99 percent psychological You need to have confidence and think positive things."
Building up the team's mental strength became all the more important after medal-favorite Tan bowed to pressure and lost in the quarterfinals on the opening day.
Bauer asked Wang and Zhong to only think about the team competitions and not worry about their remaining individual events. That piece of advice eased enough of the pressure on Zhong to allow him to make history.
"He gives us not only the technique but also the confidence. He helped me a lot and I want to dedicate my gold medal to him," Zhong said of Bauer.
For Bauer, it has been the perfect end to his two-year stay in China.
"It has been a very good experience in China over the past two years," he said.