QINGDAO: They are a couple, but they represent different countries at the Olympic sailing competition in Qingdao.
Irina Konstantinova Bontemps, the only athlete representing Bulgaria in women's windsurfing, is clear - and relatively modest - about her aims.
"I am giving my best to move into the medal race. I would like to finish in the top 10."
Her husband Julien Bontemps of France is more ambitious.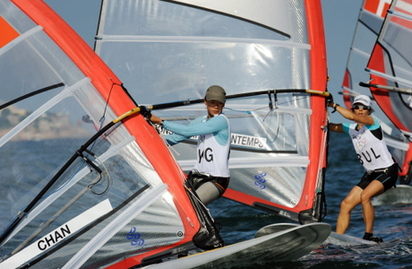 Irina Konstantinova of Bulgaria (R) and Sailboarder Wai Kei Chan of Hong Kong China and  head for the mark in the RS:X women's class in the 2008 Beijing Olympic Games August 11, 2008 in Qingdao, China. [Agencies]
"I am reasonably prepared after more than a year's training in France. I am also mentally strong and I always keep the stress low and motivation high. I can manage the board well, so I have my chances," Julien said.
"My aim is to win a medal," he added.
Even with her own competitive stress, Irina is considerate of her husband. "I don't want to put pressure on my husband because he has already had enough pressure due to people's high expectation of him. I just wish him the best."
Julien won the Mistral World Championship in 2004 in Turkey and took the bronze medal at the Qingdao International Regatta last year.
He is currently ranked fourth after four races in Qingdao. Irina ranks 12th.
The couple will compete in their fifth and sixth races today.
The two met at the European Championship in 2002 and four years later windsurfing helped them tie the knot.
"It is a big part of our life. We both love our sport and it is no wonder that we have met during a competition. We are both crazy about windsurfing," said Irina.
Though she is the only competitor from Bulgaria in Qingdao, Irina doesn't feel lonely and homesick but happy and lucky.
"I'm lucky to be with Julien at these Games to share all the experiences."
Different cultural backgrounds usually result in fun for the couple.
"We laugh a lot because of the differences in cultures."
Their happiness is apparent when Irina talks about her husband. "If we have conflict, we try to find solution and often we finish laughing, because Julien has a great sense of humor," she said.
But as Olympic competitors, they have to contribute much of their time to training and competition rather than being together.
"Because the team is a group, it is important to stay with my colleagues. We have to focus on competition," Julien said.
He is quite sure that he will continue the fight in the next Olympics, but Irina is wavering.
"We have to see how it goes. I have to find a job. I quit my job a year ago, and now everything is changing. It will be difficult for me to be competitive again in my job. It is also like a competition."