Police introduced security checks at 10 parks Wednesday in response to the fatal stabbing of an American tourist last week.
Security checks at the Summer Palace were introduced on Tuesday.
"It is an effort to keep knives and other dangerous weapons out of these areas," the Beijing municipal administration center of parks, said in a statement.
On Saturday, a man stabbed two American tourists - one fatally - and a Chinese tour guide in downtown Beijing. The attacker then committed suicide by jumping from the second floor of the 13th-century Drum Tower, a popular tourist attraction.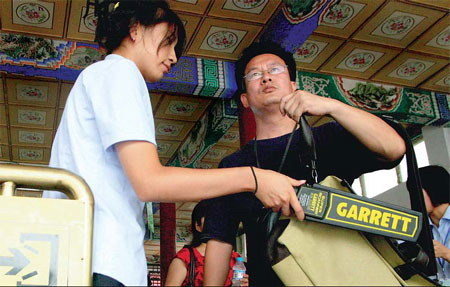 A visitor to Zhongshan Park undergoes a routine security check August 13 2008. [China Daily]
Visitors who refuse to be checked will not be allowed entry, the administration said.
"Fruit knives that are longer than 8 cm will be confiscated and visitors carrying large packages will be stopped for checks," Ji Mei, a policewoman stationed at the west gate of Temple of Heaven, said.
Su Shumao, chief of the Temple of Heaven police station, said: "The stabbing of the American tourist has put us all on high alert, we are taking no chances."
Su Wen, a visitor from Wenzhou, Zhejiang province, said he was all in favor of the security checks as people's safety is paramount.
Su and his family arrived on Friday to watch the opening ceremony of the Olympic Games and to do some sightseeing in Beijing.
Ye Qiang, 62, who lives near the Temple of Heaven, said: "It's good to have security checks to avoid a similar incident, although the chances are very remote. It has not affected our daily life."
Ye said he often goes for walks in the park.
In another development, the Beijing municipal public security bureau on Monday banned Beijing residents from flying kites and playing with helium-filled balloons for the duration of the Olympic Games.
They could cause interference to helicopters on security patrols.
"All aviation clubs have also been told not hold any activities during this period," Feng Yonglin, head of the public order department of the Beijing municipal public security bureau, said.
Suppliers of small aviation parts must record the personal details of all buyers, and the number of items purchased, it said.