The people of Qishan, Shandong province, took to the streets Wednesday to pay tribute to their very own golden girl, Olympic champion weightlifter Liu Chunhong.
Fireworks lit up a balloon-filled sky, and drummers and Yangko opera performers entertained a jubilant crowd following the 23-year-old's triple record-breaking performance in the 69 kg division.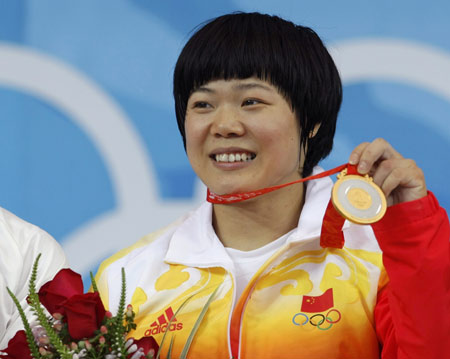 Liu Chunhong of China poses with her gold medal in the women's 69kg weightlifting competition at the Beijing 2008 Olympic Games August 13, 2008. [Agencies] 
A champion in Athens in 2004, Liu began the defense of her title in the snatch with a world record-breaking lift of 128 kg, which she followed with another world best of 158 kg in the clean and jerk. Inevitably, her combined total of 286 kg was record number three.
With tears in her eyes, Liu leapt from the stage and into the arms of her pleased, yet stoical, coach Ma Wenhui.
"She was always the best bet for gold for the Chinese weightlifting team," he later told QQ.com.
Liu said one of her favorite English mottos is "No one can achieve anything without effort".
"It's just so true," she said recently in an interview with China Central Television.
Born in 1983 in a Qishan village of the city of Yantai, Liu began her weightlifting training in 1996 at the Yantai Sports School.
Two years later, she joined the Shandong provincial weightlifting team and in 2002, made it to the national squad.
At Athens 2004, she also smashed all three records to win gold.
Ma Yunmin, Liu's mother watched her daughter's second record-breaking performance yesterday live on TV at a local sports school, along with some of Liu's former coaches, a group of local residents and lots of reporters.
She said she burst into tears when Liu stepped up to the medal podium to receive her second consecutive Olympic gold.
"It has not been easy," 48-year-old Ma, who has been separated from her daughter for more than a year, told China Daily.
"We all miss her so much. But we know she has to do what she has to do in this special career," she said.
Liu might never have become a champion had it not been for the generosity of her elder brother Liu Chunqiang.
He gave up his hopes of becoming a judo player 12 years ago, so the family could pay for Liu to train. They could not afford.
"I've never regretted it, and I never will," he said.
Ma said: "We can't wait for Chunhong to come home. I'll cook something delicious for her, as it has been so long since she has tasted my cooking.
"I'll make scrambled bean sprouts, that's her favorite."