While there is nothing unusual about a Greek couple wanting to travel to Beijing in Olympic year, not many would choose to make the trip by bicycle.
But that is exactly what Vasileios Mesitidis and his girlfriend Danai Tezapsidou did.
On Friday, the pair arrived at Tian'anmen Square after 171 days in the saddle. From Olympia - their starting point and birthplace of the modern Games - they had traveled in the region of 12,000 km.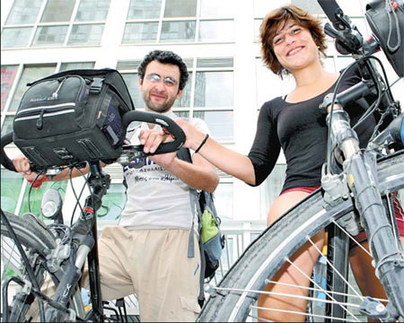 Cyclists Vasileios Mesitidis and Danai Tezapsidou spend their last day in Beijing yesterday before flying back to Greece. [China Daily]
The pair was part of an international group of cyclists that set off on the epic ride in February. The goal was simple: to promote cross-cultural communication and celebrate Olympic year.
"Less than 20 of us set out from Olympia and 10 of us managed to make it all the way," Mesitidis said.
"But more than 50 other people (from Poland, Lithuania, Italy and Netherlands among others) took some part in the ride, which covered nine countries and six Chinese provinces, including a section of the ancient Silk Road," the 33-year-old told China Daily.
"As keen amateur bike riders, travel is part of our lives. But the most important part of this journey was promoting the Olympic ideals along the way, otherwise we wouldn't have chosen this route," he said.
"In the original concept of the Olympics, there are no tricks, no wars, no doping everything is genuine. And that is what we wanted to promote though our own sportsmanship," he said.
Riding beside Mesitidis was his partner, 21-year-old university student Tezapsidou.
"I never imagined I could ride a bike such a long way," she said. "The trip showed me that everything is possible if you want it enough, just like the Olympics tells us."
The couple said the best part of the ride was the warm welcomes they received from the people they met along the way, especially those who came to their aid as they were crossing the Gobi Desert in the Xinjiang autonomous region.
"We were exhausted and had run out of water. All we could see ahead was 200 km of nothing but sand," Tezapsidou said. "But then we met a group of road workers who invited us into their shelter and offered us food and water."
After less than a week in Beijing the couple flew back to Greece Tuesday.
"We wish we could spend more time here, but we've been away from our families for five months and it's time to go home," Mesitidis said.