OLYMPICS
/
Newsmaker
---
Zhong gives China first fencing gold after 24 years

Agencies
Updated: 2008-08-12 21:52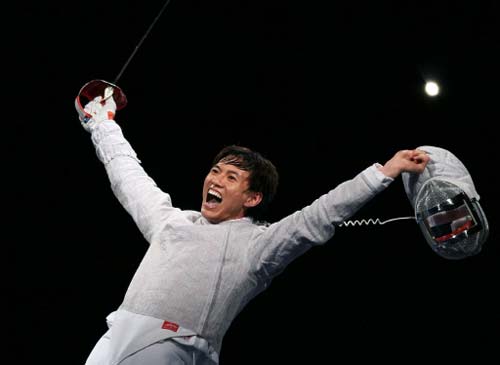 China's Zhong Man celebrates after winning the men's individual sabre final match over France's Nicolas Lopez (unseen) on August 12, 2008 at the Fencing Hall of National Convention Center at the 2008 Beijing Olympic Games. Zhong, 25, gave China their second Olympic fencing title, 24 years after Luan Jujie won the foil in Los Angeles in 1984. [Agencies]
BEIJING - Zhong Man ignited the home crowd Tuesday night, as the fans in the Olympic Fencing Hall roared for the first Olympic fencing gold from a Chinese man.
It was also the country second fencing gold in history. Luan Jujie won the women's foil champion in the 1984 Los Angeles Games.
The 25-year-old sabre fencer overwhelmed Frenchman Nicolas Lopez 15-9 in the final bout of men's sabre individual event.
"I don't feel much pressure before the match. I would like to dedicate this supreme honor to my coach," Zhong said after the match.
"My French coach Chiristian Bauer offered tremendous help in improving my fencing skills. He is the best sabre coach in the world," Zhong told a crowded press conference.
In earlier rounds, the "dark horse" has already surprised the home crowd by entering top eight, and made history by advancing to the semifinals.
"The further I went, the more relaxed I became. Maybe I won the medal because I don't have so much pressure as some other people do," said the new champion, who watched TV soap opera Tuesday afternoon to relax himself.
Related Story: Fifty-year-old fencing queen still sharp