OLYMPICS
/
Latest Medals
---
Martikan regains Olympic canoeing slalom C1 title

Xinhua
Updated: 2008-08-12 17:40
BEIJING -- Michal Martikan of Slovakia on Tuesday regained the Olympic
canoe
ing slalom men's single (C1) title  in Beijing, 12 years after he won the C1 gold medal in Atlanta.
Martikan finished the semifinal and final in the Shunyi Olympic Rowing-Canoeing Park with a combined result of  176.65 seconds, ahead of 178.61 seconds with David Florence of Britain. Robin Bell of Australia took bronze with a time of 180.59 seconds.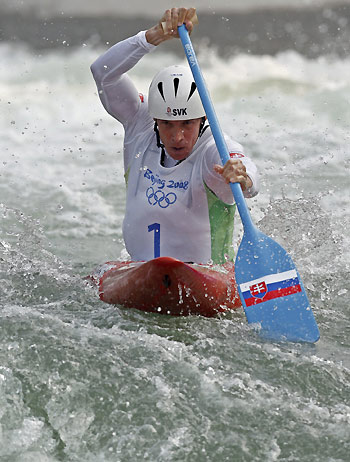 Slovakia's Michal Martikan paddles during the final of his men'scanoe(C1) at the Beijing 2008 Olympic Games August 12, 2008. [Agencies]
Martikan's arch rival, double Olympic champion Tony Estanguet failed narrowly to earn his a slot in the final, posting a 9th place in the semifinal. The top 8 enter the final.
The 30-year-old Frenchman finished the semifinal in 93.92 seconds after being given a two-second penalty for touching a gate, 5 seconds slower than world number one Martikan.
This gave an end to the long-anticipated highlight of the racing, and also Estanguet's bid to win the unprecedented third straight Olympic gold medal in Beijing.
Martikan finished first in the heat on Monday, while Estanguet posted a disappointing 6th place after touching a gate.
The 29-year-old Slovak won his first C1 Olympic gold in 1996, when he was only 17. Estanguet won the C1 gold in Sydney, and retained the title in Athens, but only after a late review gave Martikan a two-second penalty for touching a gate and demoted him into second place narrowly.