Iran's Hamid Sourian Reinhanpour will be looking to take his country's first gold in Beijing in Greco-Roman Wrestling today.
The world champion will be fighting in the 55kgs class in the sport which, unlike conventional freestyle wrestling, forbids attacks below the waist.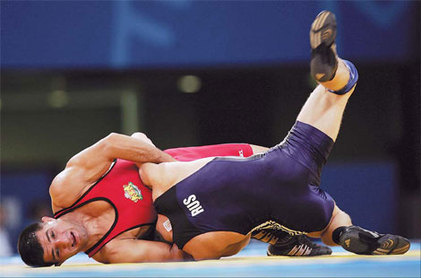 Armen Nazarian of Bulgaria (red) tussles with Alexey Shevtsov of Russia in the men's Greco-Roman wrestling 60 kg bronze medal match in Athens in 2004. [Getty Images]
One of the sports superstars, Armen Nazarian of Bulgaria, will also be in action in the 60kg class.
The sport, known better as Greco, includes arm drags, bearhugs, and headlocks and there is greater potential to throw your opponent since he doesn't have the defense of holding onto his opponent's legs.
With gruesome techniques such as gut-wrench and body lock, Greco is one of the four main forms of amateur competitive wrestling practised internationally today. The other three are freestyle, grappling, submission and sambo, according to the International Federation of Associated Wrestling Styles.
Greco is one of the oldest Olympic sports and was included in the first modern Olympics in Athens in 1896.
The only other Olympic wrestling style, freestyle, has to wait until 1904, to be included.
The wrestling takes place on a thick rubber mat and the winner is determined by a point scoring system.
At the Olympics, the results of each weight class is determined on one day.
Reinhanpour has been the reigning world champion for the past three years and recently won the 2008 Asian championships and is ranked No 1 in the world.
He has reserved his best performances at the most important events, and the Olympics will be his chance to truly put a stamp on his amazing career.
One of the top competitors pushing Reinhanpour the last few years has been 26-year-old Park Eun-chol of South Korea, who has won two World silver medals and a World bronze medal over the last three years.
He won silver at the 2007 and 2005 world championships, and bronze in 2006. Park, who is the South Korean armed forces, is ranked 4th in the world.
He began the sport at the age of 12 when he was at school.
Other Greco wrestlers to watch out for will be Nazyr Mankiev of Russia and Kristijian Fris of Serbia as well as 2006 world silver medalist Rovshan Bayramov of Azerbaijan and 2005 world bronze medalists Istvan Majoros of Hungary and Yermek Kuketov of Kazakhstan.
In the 60 kgs class, Nazarian, who already has two Olympic gold medals and a bronze, in addition to three World titles, is still regarded as dangerous at 34.
He put down his marker by coming second at the 2008 European Championships.
Other contenders in this class include Makoto Sasamoto of Japan, the 2007 world silver medalist.
Jung Ji-hyun of South Korea, who won bronze at last year's worlds, is highly fancied.
Eusebiu Diaconu of Romania, who took the bronze at the 2005 worlds and Emin Bunyamin of Turkey are also major contenders.
Agencies