(The author is an independent researcher from Australia, currently living in Beijing.)
A person's involvement in the Olympics can be overwhelming and a major memory for the whole life. From medalist to TV audience, enjoy and be excited and emotional.
But Olympic years are milestones in history, and the 2008 Beijing Olympic year will be remembered centuries on. This is a chance to savor a big historical picture and understand where our world is headed. China can give direction to the world.
Savor the fact that China is a developing country to host the Olympic Games. China can show it has "caught up" with West, and in selected fields, surpassed it.

Ventures into radical and gravity-defying architecture are one manifestation. In key fields such as computer chips, carbon fiber and enzyme production, foreign experts come to China to marvel and learn and buy for the world market. Foreign reserves (dollars in the bank) will soon pass the 2 trillion mark. China has averaged about 10 percent economic growth yearly for 30 years.
Reflect on the fact that China is relatively safe, compared with quite a few countries. Its backstreets, restaurants, bars and discos have no handguns. You can walk down an alley in a Chinese city at 3 am and it should be safer than cities in most developed nations.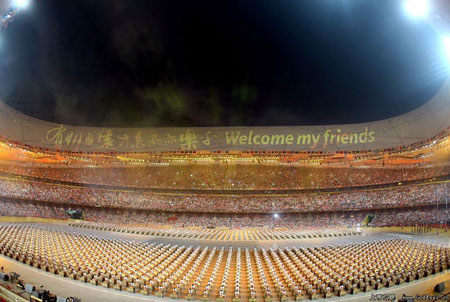 General view shows the opening ceremony of the 2008 Beijing Olympic Games in Beijing on August 8, 2008.
Compare the drama of hurricane Katrina and the Sichuan earthquake - the government response, community response. After Katrina a refugee raped a refugee in New Orleans stadium. Policemen unable to enforce order and common sense handed in their badges in droves. The federal government was paralyzed with bureaucratic infighting.
No doubt China played the media differently, but they showed the premier on site within hours, soldiers selflessly serving, even a policewoman breastfeeding orphans.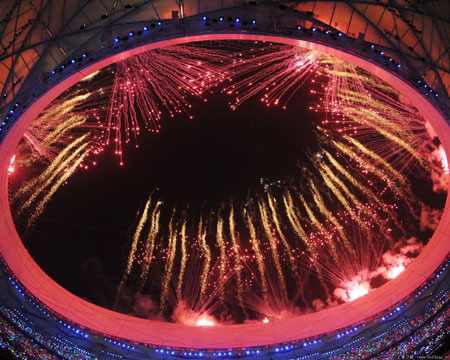 Fireworks explode at the opening ceremony of the Beijing 2008 Olympic Games at the National Stadium, August 8, 2008. 
But the global attention on China for the Olympics deserves a much more profound critique. What China has found out, the hard way, during the past three decades, is that the Western model of development is a sleight of hand, and all the goods produced are done so at a net increase of "bads".
When England discovered this a few decades into its industrial revolution, smoke stack industries were simply exported to America's east coast, and each successfully developed region just kept the benefits and shifted the nasty factories and furnaces to somewhere more remote, where poor people welcomed job creation.
But despite environmental problems and the oil crises, the global economies continued to bounce along and the optimists' mantra was that markets will adjust, and can drive technological innovation to new solutions.
What no one pointed out was that at this time China was a vacuum to the global economy, and just when the global environment should start to choke, China opened its doors and started to become the world's sweathouse. Western households could buy $100 DVD players.
Now, in 2008, there is no place on the planet left to hide pollution or exploit cheap resources.
China, as one of the latest major regions on the planet to achieve development, has got to solve its crippling resource shortages and pollution issues basically without the luxury of seeking new parts of the world.
There are some smart people in China who know this and are working on it. China is leading the world in some aspects of renewable energy technologies and applications, energy efficiency, and waste recycling.
The mindset of Chinese leaders, policy makers and implementers is the antithesis of the current US petroleum club leadership's mindset. China is setting this paradigm shift, and they are half way through it before Germany, the Netherlands and Japan began to appreciate what they are doing.
Tsinghua University in the northwest corner of Beijing provides policy advice to the government. The president of China and quite a few leaders are its alumni. Tsinghua has clout and is dedicated to leading China to lead the world in fields of science, and therefore rational policy. The Faculty of Environmental Science and Engineering is now pioneering entropy analysis through a case study of China's steel production.
In 2007 China produced 489 million tons of steel, an astounding figure. The iron ore mined and refined, the coal burnt, the polluting gases emitted, are all world records and certainly effect global atmosphere and climate.
China is now entering a very sobering, soul-searching era. The Olympics is but a blip, mentioned one time in the voluminous Eleventh Five Year Plan of 2007. What China is feeling for now is a search back to roots in millennia of tradition, in the Chinese traditional concept on harmony with nature.
One of the founding fathers of Western economics, David Ricardo (1772-1823), wrote that water and other gifts of nature are free. Well, that was when economy was on a small scale to the global environment. Now we really are on a finite and in material terms, self-contained, Spaceship Earth.
Olympic visitors, enjoy the Games, enjoy your favorite events. But check the big picture, savor the change happening in China, and what it means to the Chinese to be the last piece in the jigsaw of the earth's sphere, and to be holding the can in the global economy. For China there is no such thing as a free lunch.