Guo Wenjun achieved every athlete's dream on Sunday, when she won the Olympic gold medal for the women's 10 m air pistol on home ground. But to Guo the achievement was the means to a more fundamental end, that of being reunited with her father.
A year ago, Guo's personal suffering at being estranged from her father had reached a pitch where she was ready to quit professional sports.
Huang Yanhua, Guo's coach said Monday he had convinced her to keep on training by telling her, "Your father would be disappointed if you gave up now, and your winning a gold medal could be the most effective of any 'Missing Persons' notice."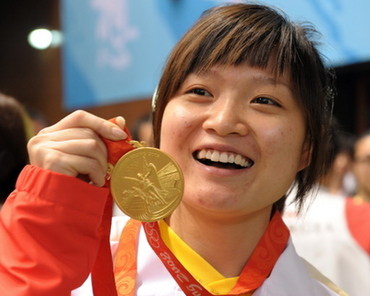 Guo Wenjun of China celebrates on the podium after winning the gold medal in the women's 10m Air Pistol category at the 2008 Beijing Olympic Games on August 10, 2008 at the Beijing Shooting Hall. [Agencies]
Guo's parents divorced soon after she was born in Xi'an, Shaanxi province. Guo's father raised her and introduced her to shooting when she was 14.
Guo has not seen him since he left one night in April 1999 when she was competing in a match outside the province. All he left was a note to Huang, her coach, saying, "I'm going far away I want you to treat Wenjun as your own daughter and help her do her very best."
Guo's sense of abandonment made her drop out of training several times during her huge leap from the city team in 2001 to the national squad five years later.
After finishing a disappointing ninth at the fifth City Games in 2005 she decided to give up sports, and worked for a year at a local department store selling sportswear.
"These things happen. It's all part of a young woman's process of growing up," Zhang Guiying, deputy head of the Xi'an sports bureau, told China Daily.
Guo made a promising comeback, winning both a gold and a silver medal at the 2006 Doha Asian Games just two months after entering the national team.
A year later, Guo was heartsick and ready to give up again. It was Huang's reminder of her ultimate motivation that convinced her to hold on. "I'll do well in the Games," she told Huang. "And my dad will see me and be proud."