After the stumbling performance on Day One, China's badminton team suffered a setback when World No 1 and defending champions women's pair Yang Wei/Zhang Jiewen got knocked out of what could be their last Olympic journey.
Japanese pair Miyuki Maeda/Satoko Suetsuna smashed their defending dream and deterred China's scheme to book three of the four slots in the semifinals of the women's doubles.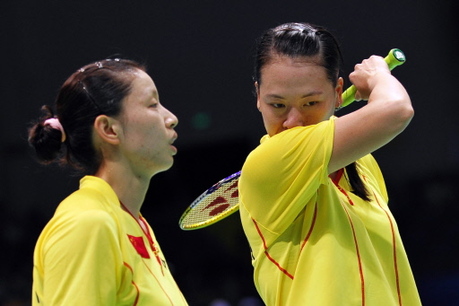 China's Yang Wei (L) and Zhang Jiewen react after a missing point against Japan's Miyuki Maeda (R) and Satoko Suetsuna during their women's doubles quarter-final badminton match for the 2008 Beijing Olympic Games at the Beijing University of Technology Gymnasium on August 11, 2008.[Agencies]
"We tried our best," said Zhang Jiewen, whose final shot found the nets.
"We just lost our morale. We found it very hard to play at our best," said Yang Wei, two-time Olympic champion. "Today, our levels were just so-so. They were simply better than us."
"Yeah, it's a pity for us," she said.
The pair started well, getting a quick first-game lead and their continued in the second game. However, the pair suddenly lost patience when they could wrap it up in the second game. Zhang's shot was put wide and the two sides went into the final game.
But the Athens champions were far from their top form in the deciding game. The pair could barely block the smashes from the Japanese girls into the nets.
"In the first game I was not able to adapt to their style but in the second I decided I didn't want my competition to finish like that," said 22-year-old Miyuki Maeda.
"It is the biggest win of our career. I don't know what happened."
China still has two more women's pairs in the second half of the competition. If they advance tonight, they will face other in the semifinals.
On the women's singles side, China's Zhang Ning cruised to a straight-game win to advance to the quarterfinals, while Denmark's Tine Rasmussen was defeated by Maria Kristin Yulianti from Indonesia.
Bao Chunlai, World No 2 men's single player, also advanced to the last 16 with a win over Guatemala's Kevin Cordon in the men's singles.