OLYMPICS
/
Latest Medals
---
S. Korean Park wins men's 400m freestyle Olympic gold

Xinhua
Updated: 2008-08-10 20:58
BEIJING -- South Korean swimming prodigy Park Taehwan realized his dream to win the men's 400m freestyle gold medal at the Olympics here on Sunday.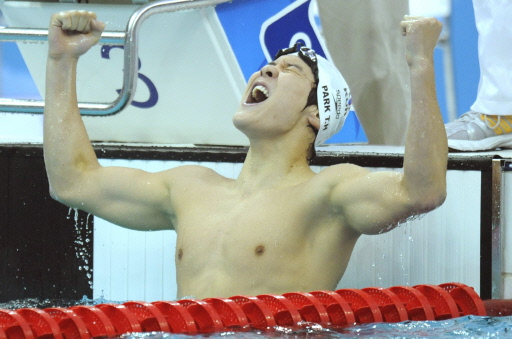 South Korea's Park Taehwan celebrates victory in the men's 400m freestyle swimming final at the National Aquatics Center during the 2008 Beijing Olympic Games on August 10, 2008 in Beijing. [Agencies]
Park clocked in 3:41.86 to top the podium, China's Zhang Lin got the silver in 3:42.44 and American Larsen Jensen finished third in 3:42.78.
Park wore a headphone before starting his race and seemed to be totally focused on what he was about to achieve. The 19-year-old swam close to Australia's Grant Hackett in the first two laps and began taking over Hackett at 150 meters. He maintained the lead and coasted to win his first Olympic gold.
"This (the gold) was what I'm going after. I lagged behind in the first two laps, but I knew my pace and that I was going to catch up," he said.
"Although the weather was not good today, it was a truly nice day for me," he said.
Dubbed as nation's little brother, Park is the event's world champion and a hugely popular athlete in his country. He will also swim in 200 and 1,500 meters freestyle races.
Australia's Hackett slipped to the sixth at 3:43.84. "I guess it wasn't what I was looking for. It would have been nice to be on the medal podium," Hackett said.
"I probably would have gone out harder, but I didn't want to kill myself," he said.