OLYMPICS
/
flash
---
Diva divers defend Olympic title

Xinhua
Updated: 2008-08-10 15:20
Beijing - Chinese world and Olympic champion Guo Jingjing took the limelight of the Water Cube together with her partner Wu Minxia as they retained their women's three-meter springboard synchronized gold at Beijing Olympic Games here on Sunday.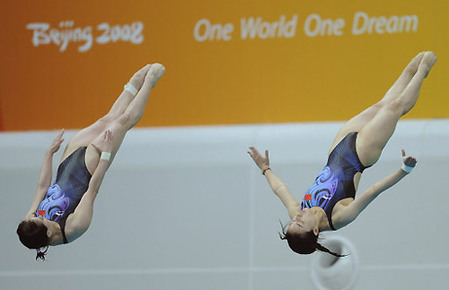 Guo Jingjing (R) and Wu Minxia perform in the women's synchronised 3m spring boarddiving competition final at the 2008 Beijing Olympic Games in Beijing on August 10, 2008. Guo and Wu won the first diving gold for Chinese delegation. [Agencies] 

Guo and Wu, took the lead after the second round in the final to collect 343.50 points, beating their closest rivals Julia Pakhalina and Anastasia Pozdnyakova of Russia, who posted 323.61, by almost 20 points.