China's "diving queen" Guo Jingjing will begin her fourth Olympics this afternoon when she teams up with Wu Minxia in a bid for gold in the women's 3m synchronized springboard.
The Olympic and world champion pair is looking to get the Chinese diving team off to a winning start on home soil.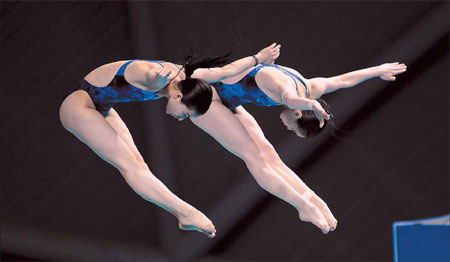 Guo Jingjing (left) and Wu Minxia compete today.

[China Daily]
Guo even missed the Opening Ceremony of the Beijing Games on Friday night so she could keep to her regular sleeping schedule and be in the right frame of mind for today's Olympic title attempt.
"It is regretful not attending the Opening Ceremony, but everything is less important than the competition," said Guo, who dominated the event with Wu in the 2008 world series.
Due to the competition schedule, Guo has missed all four opening ceremonies of the Olympics she has attended.
In the 3m synchronized event today, Guo and Wu will face strong competition from Russia, Australia and Germany.
Russian veteran Julia Pakhalina and her young partner Anastasia Pozdnyakova perhaps present the biggest challenge to the home favorites.
Pakhalina won gold with her former partner Vera Ilyna in Sydney in 2000 and silver at Athens four years later.
The current world No 2 pairing of Sharleen Stratton and Briony Cole from Australia is also strong.
The Australian pair won the bronze medals at the 2007 world championships and finished the second at three grand prix series this year.
But for defending champion Guo and Wu, the biggest opponents are themselves.
"There are many divers at the world's top level at present and there are lots of things that we cannot predict during the competitions," said Guo. "We would rather focus on ourselves to get stronger than think too much about the others. We will try our best to win."
There will be altogether eight pairs in the final and it will be the first gold medal of the total eight in the diving events.