Carrying Pierre de Coubertin's dream of "solidarity, peace and friendship" to the world's most populous country, the 29th summer Olympic Games opened in Beijing on Friday, 112 years after the Games' modern revival.
At 23:36 Beijing time, at the invitation of International Olympic Committee (IOC) President Jacques Rogge, Chinese President Hu Jintao declared open the Games, before an ecstatic audience of 91,000 in the full-packed National Stadium, or the Bird's Nest, and some 4 billion TV viewers worldwide.
Earlier, with bands playing welcome tunes in turns, the nearly two-hour parade of the athletes started with Greece, the country that nurtured the Olympic Games over 2,800 years ago, as usual and ended with the host.
More than 80 foreign leaders and international dignitaries, including U.S. President George W. Bush, Russian Prime Minister Vladimir Putin and IOC Honorary President Juan Antonio Samaranch, were seated in the VIP stand along with top Chinese leaders.
The 1,099-member Chinese delegation includes 639 athletes, topping all participating teams in a sharp contrast to the country's embarrassing Olympic debut at Los Angeles in 1932, where only one Chinese sprinter took part.
The Chinese athletes, in red and yellow suits of their national flag colors, were led by 7-foot-6 basketball star Yao Ming. Yao and other super stars, such as defending Olympic champion hurdler Liu Xiang and the star-studded table tennis and diving teams, have met great public anticipation to deliver at home.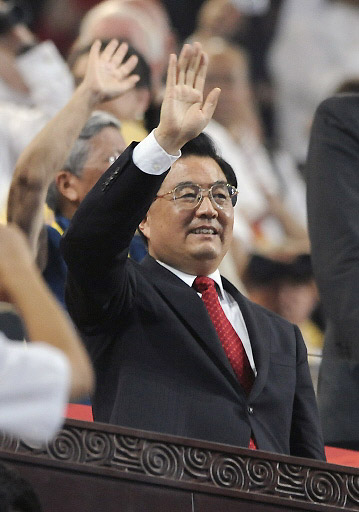 Chinese President Hu Jintao waves at the opening ceremony of the 2008 Beijing Olympics. [Agencies]
The United States and Russia, which are widely expected to join the host as the biggest winners in Beijing, sent in more than 600 athletes and nearly 500 athletes respectively.
With only four athletes, the Iraqi team stole the limelight as they did in Athens 2004, for their last minute escape from an IOC ban over Baghdad's alleged "political interference" in the Olympic affairs. The team entered to a roaring ovation.