Lin Hao, a primary school student from the quake-affected zone of southwest China's Sichuan Province, spearheaded the Chinese sports delegation to the Beijing Olympic Games in the athletes' parade at the Games' grand opening on Friday night.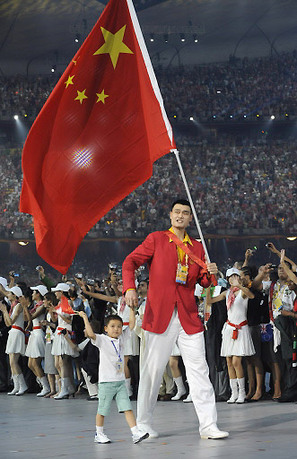 Chinese basketball star Yao Ming leads the Chinese delegation holding hands with earthquake survivor Lin Hao during the opening ceremony of the 2008 Beijing Olympic Games in Beijing on August 8, 2008. [Agencies] 
The 9-year-old Lin walked ahead of the 1,099-member delegation side by side with 7-foot-6 basketball star Yao Ming, who was carrying the Chinese national flag.
Chinese President Hu Jintao and other top leaders of the country seated in the VIP stand all rose to wave to the Chinese team, as the full-packed National Stadium, the Bird's Nest, was turned into a sea of joy and ecstasy by the enthusiastic home crowd.
The kid, wearing a special pass on his neck, walked briskly on the lap, waving a national flag and an Olympic flag at the same time with both hands.
The smiling NBA giant playing for Houston Rockets bowed his head from time to time, and talked to the kid as if passing on some march-in experience to the young one.
Yao also carried the Chinese flag in the opening parade of the Athens Games.
Lin is a second-grader at the Yuzixi Primary School in Yingxiu Town, Wenchuan County of Sichuan. Wenchuan was the epicenter of a devastating 8.0-magnitude earthquake that jolted Sichuan and its neighboring regions on May 12.
The disaster caused more than 80,000 people dead or missing, and left some 10 million people homeless. Till now, the province is still prone to aftershocks, with the Provincial Earthquake Administration reporting a tremor measuring 4.3 on the Richter scale that occurred at 9:12 p.m. Friday.
According to media reports, when the May 12 tremor struck, Lin risked his life and suffered multiple injuries for rescuing his schoolmates from the collapsed buildings. He was later awarded the title of "Teenage Hero in Earthquake Rescue and Relief."