OLYMPICS
/
News
---
Chinese girl, 9, sings at Olympic opening ceremony

Xinhua
Updated: 2008-08-08 23:27
A nine-year-old Chinese girl lent her voice Friday night to the opening ceremony of the Beijing Olympics.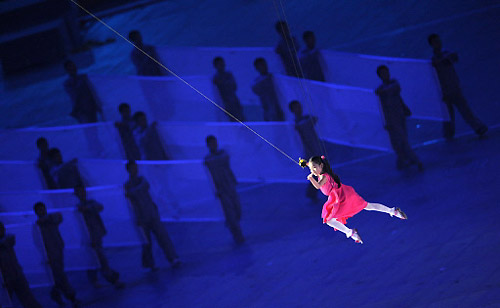 A young acrobat girl performs during the opening ceremony of the 2008 Beijing Olympic Games in Beijing on August 8, 2008. [Agencies]
Lin Miaoke, dressed in a red skirt, received thunderous applause from 90,000-plus spectators at the National Stadium, known as the "Bird's Nest", when she performed "Sing a Song of Praise to the Motherland" as 56 children, each representing an ethnic group of the country's 56 nationalities, carried the national flag into the stadium.