OLYMPICS
/
News
---
Iraqi athletes applauded at Olympic opening ceremony

Xinhua
Updated: 2008-08-08 23:13
BEIJING -- Spectators in the National Stadium, or the Bird's Nest, in north Beijing warmly applauded the entry of the Iraqi delegation at the opening ceremony of the Beijing Olympic Games on Friday night.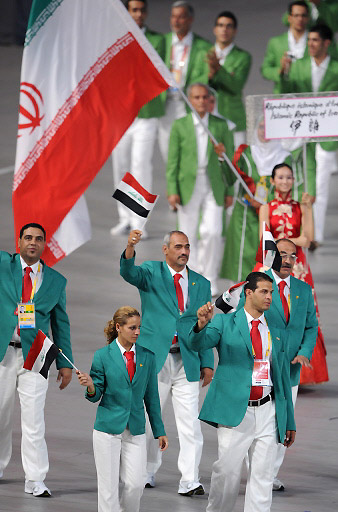 The Iraqi delegation led by rower Hamzah al-Hilfi (unseen) cheers during the opening ceremony of the 2008 Beijing Olympic Games in Beijing on August 8, 2008. [Agencies]
The Iraqi delegation, a group of 10 including the flag bearer, strode into the stadium while the spectators paid tribute to the team by waving hands or flags, amid thunderous cheers and deafening applause.
Iraq was first denied participation in the Beijing Olympics by the International Olympic Committee (IOC) over Baghdad's alleged "political interference" in the Olympic affairs. The ban was lifted at the last minute after an agreement was brokered between the IOC and the Iraqi government at the end of July.