Yao Ming wasn't even sure if he would take part in the Olympics after surgery to fix a broken left foot.
Now he's back in full swing with the Chinese basketball team and poised once again to carry his country's flag during tonight's Opening Ceremony on home soil.
Yao, inarguably China's biggest sports hero, was last night given the honor of leading the home team into the 90,000-seat Bird's Nest.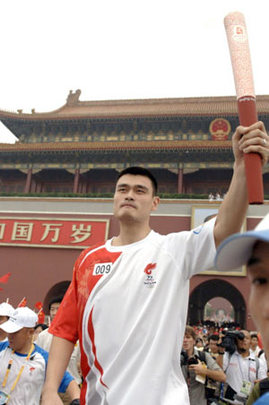 Chinese NBA basketball star Yao Ming carries the Olympics torch on the Tiananmen square in Beijing on August 06, 2008, two days ahead of the start of the 2008 Beijing Olympic Games. Yao will carry China's national flag at Friday's opening ceremony for the Beijing Olympics, a senior Chinese sporting official said. [Agencies] 
Also flag bearer at the Athens Games, the 2.26m NBA all-star center will become only the second Chinese athlete to enjoy the double honor following former basketball player Liu Yudong.
"Yao is the best choice for China," said Cui Dalin, deputy Chef de Mission of the Chinese delegation, said at a press conference at the Main Press Center yesterday.
"He is China's best athlete not only for his excellent basketball skills but also for his outstanding sportsmanship, professionalism and his good public image.
"He represents all the Chinese athletes in a perfect way."
Earlier this week, the 28-year-old Yao said he wanted to lead his country into another Olympic campaign.
He said the honor was even greater after he was selected ahead of a number of young athletes, including national treasure Liu Xiang and basketball prodigy Yi Jianlian.
"Of course I want to be the flag bearer again," said Yao. "I have experience. It feels good."
Men's basketball players have carried China's flag at the past six Summer Olympics.
In 2000 and 1996, the then national team captain Liu toted it.
In 1992, Song Ligang had the privilege.
Olympic short-track skating champion Yang Yang became the first woman to march out in front at the 2006 Turino Winter Games.
China's 639-strong team will be its biggest Olympic team to date.
Four years ago in Athens, the country won 32 golds to finish second on the medal tally behind the United States.
In total, China bagged 63 medals, ranking it third overall, behind the US and Russia.
Cui said all Chinese athletes are in good shape and ready to launch their campaign on home soil.
"Our Olympic goal is to display our spirit and enhance communications with other countries and regions," he said.
"We also hope to stimulate and promote grassroots sports in China by way of staging the Olympics this summer."
However, the sports official refused to predict the number of medals the home athletes would win at the Games.
Cui admitted improvement in major sports had been relatively slow and that Project 119, a development regime to harvest more medals from swimming, canoeing, rowing, sailing and athletics, was yet to have a significant impact.
In Athens, the US won 25 athletics, swimming and aquatic events - more than half the team's total haul. China snared just four in those sports: in the men's 110m hurdles, the women's 10,000m on the track, 100m breaststroke in the pool and the men's C2 canoeing.
"We started to implement the project after the Sydney Games but I don't think it made any difference right away," he said of Project 119. "We haven't made enough progress and our athletes involved in the project do not have what it takes to bridge the gap with their European and American opponents.
"So I don't think they can make a big difference at the Olympics."
While people throughout China are wondering how many gold medals the team will win, Cui said the more important mission was for athletes to keep the Games clean.
"I think the No 1 goal is to have a clean Olympics that is free of drugs, rather than chasing gold medals," he said.
"Staying away from drugs is always our top priority."