Days of speculation reached a frenzy Wednesday when rumors began swirling that basketball star Yao Ming had been selected to carry China's flag during the Opening Ceremony of the Beijing Olympic Games.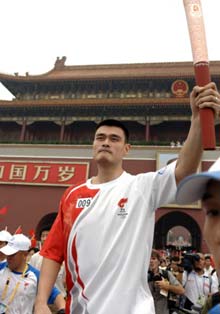 Chinese NBA basketball star Yao Ming carries the Olympics torch on the Tiananmen square in Beijing on August 06, 2008 two days ahead of the start of the 2008 Beijing Olympic Games. [Agencies] 
"Of course I want to be the flag bearer again," said Yao, who carried the flag four years ago in Athens, when told of the rumor. "I have experience. It feels good."
The rumor was impossible to confirm, but if Yao does end up being China's flag bearer he would continue in an established tradition. Since 1984, China has assigned the flag-bearing honor to men's basketball players like Wang Libin (1984), Song Tao (1988), Song Li (1992), Liu Yudong (1996 and 2000) and Yao (2004).
Yao has long been considered the most likely candidate this year due to his international fame and impressive height (2.26m). Yao's teammate Yi Jianlian, another NBA player, is also considered a strong contender for the honor.
Last week, Olympic and world 110m hurdle champion Liu Xiang ruled himself out, saying he would not be attending the Opening Ceremony at the Bird's Nest.
"I won't go to the stadium to watch the Opening Ceremony but I will watch the live broadcast on TV," Liu said during a break in training. "The TV broadcast is as good as the live show and what's more, I can listen to the commentary."
China, a badminton powerhouse, also may choose men's singles player Bao Chunlai. The tall and handsome young man is hugely popular among female fans and he already carried the flag at the 2006 Asian Games in Doha.
Because China's women's athletes have been more successful than the men in many events, it may be a woman who carries the flag this time in Beijing.
At the 2006 Turino Winter Games, Olympic short-track skating champion Yang Yang was the first and only woman to lead the Chinese squad at an Opening Ceremony.
According to some online surveys, ace spiker Zhao Ruirui, diving star Guo Jingjing and table tennis player Zhang Yining are all among the hot female favorites.
We will learn the final answer today.
Stars lead squads
The main rule guiding most Olympic teams when choosing a flag bearer is to choose either the best or the most unique athlete. 
Tennis star Roger Federer, for example, is the undisputed choice for Switzerland. He set a record for holding the world No 1 ranking for a record 238 consecutive weeks and has won 12 Grand Slam singles titles. Federer, who will be celebrating his 27th birthday on the day of the ceremony, also led his country at the opening of the Athens Olympics four years ago.