A loving kiss on the nose from 75-year-old torchbearer Ji Shaolin was the highlight of yesterday's Olympic torch relay in Qinhuangdao, Hebei province.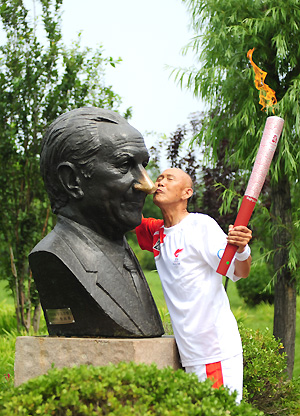 Torchbearer Yi Shaolin, 75, founder of the Qinhuangdao Senior Citizen Biker Club, plants a kiss on a statue of Juan Antonio Samaranch as he runs through the Olympic Park in Qinhuangdao, an Olympic co-host city. The Olympic torch relay began its tour in Qinhuangdao, Hebei province on July 30, 2008. [Xinhua] 
The receiver of the kiss was not a person, but rather a bronze bust of Juan Antonio Samaranch, former president of the International Olympic Committee.
Ji was running through Olympic Park - built to celebrate Qinhuangdao being named as a co-host city - when he came upon the statue.
With a smile on his face, he raised the torch in the air and kissed Samaranch on the nose.
"He is an old friend of China's," the retired archivist said.
"I wanted to share with him the joy I felt at being a torchbearer and the fact our city was chosen as a co-host for the Olympics."
Samaranch became a household name in the country after he announced in 2001 that Beijing had won the bid to host this year's Olympic Games.
"He is much loved here in Qinhuangdao," Ji, who helped promote China's bid and subsequently the Games by riding his bicycle across the country, said.
"We won't forget the part he played in bringing the Olympics to China."
"The statue's nose is very shiny because people who see the bust want to stop and touch it.
"That would be impolite if it was really him, but kissing the bust is a just gesture of friendship," he said.
Yesterday's relay began at Shanhaiguan Pass, the eastern end of the Great Wall near Bohai Bay, about 30 km from downtown Qinhuangdao.
It was the torch's second visit to the Wall, after earlier visiting the Juyongguan Pass in Gansu province in Northwest China.
Xi Enting, the former table tennis world champion and current coach of the national team, ran the opening leg.
The relay continues today in the city of Tangshan, which was hit by an earthquake in 1976.