BEIJING - Impressed to see no more last-minute rush in Games preparations, disappointed by the missing "real Chinese food," and sometimes annoyed by the strict security measures.
Though their stay in Beijing is still quite short, the ever-expanding army of foreign journalists coming for the Olympic Games have started testing the host city's hardware and service in an all-round way.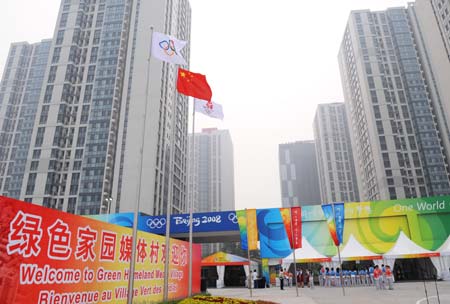 The Olympic Media Village opens for 21,600 domestic and foreign registered reporters in Beijing, July 25, 2008. [Xinhua] 
As the first batch of guests to the three-week sports gala, they are of special importance to the organizers in Beijing -- not only because they decide what kind of publicity the city will get, but also because their feelings and comments could offer critical hints for necessary corrections and improvements in the last 10-day run-up.
For those with rich experience covering the Games, almost all were impressed with the efficiency and preparedness they saw in the Chinese capital.
Jacquelin Magnay with the Sydney Morning Herald, who covered three Olympics, said Beijing should get credit for being more organized and prepared than the previous hosts.
"The facilities are all ready and prepared. In other Games, the workers were still building and connecting phones when I arrived," she recalled.
All Games venues in Beijing had been completed by the end of June. The two main media camps -- the IBC (International Broadcasting Center) and the MPC (Main Press Center) -- were inaugurated on July 8. The Olympic Media Village and Athletes' Village were officially opened on Friday and Sunday, respectively.
For Brazilian TV reporter Marcio Pereira, who arrived in Beijing on Saturday, the press centers are nicely structured, while the inclusion of a library and markets in the facilities is something new in his four-time Olympic experience.
While the media facilities are ready, the operating teams are under pressure to make sure they function well. Problems emerged from the very first day, and some of them needed to be addressed with urgency.
For example, there have been complaints that it was too cold in the MPC with too much cooling. "I only brought one jumper, and it was way too cold here," said Magnay from Australia.
Xu Jicheng, deputy chief of the MPC, said the management immediately sent out maintenance workers to measure the temperature in every work unit in the building and collect responses from the journalists.
"The MPC is centrally air-conditioned, but a temperature that a European feels OK might be too cold for an Asian. We will keep close watch and make sure the temperature is suitable for most of the people," he added.
Also in response to the journalists' complaints, the shuttle bus service that ships journalists between the media village, work camps and Games venues will be made more frequent and flexible to meet the increasing commuting demands, Xu said.