OLYMPICS
/
Olympic Nation
---
Beijing Olympic village officially opens to athletes


Updated: 2008-07-27 13:50
BEIJING - The Olympic Village for the Beijing Games was officially opened Sunday morning as hundreds of Chinese athletes started checking into the 66-hectare compound.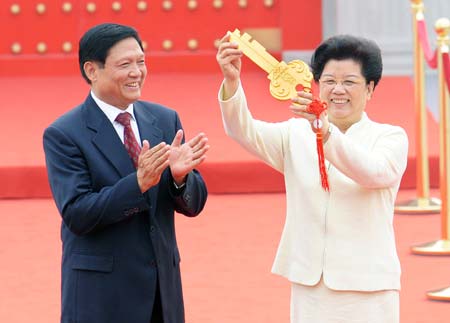 Olympic Village mayor Chen Zhili (R) and Beijing Organizing Committee for the 2008 Olympic Games (BOCOG) President Liu Qi attend the launching ceremony of Olympic Village July 27, 2008. The Olympic Village was officially opened on Sunday and Chinese sports delegation entered the village. [Xinhua] Click for more photos
Village mayor Chen Zhili announced its opening, which is about 20 minutes' walk northwest of the Games' two centerpiece venues - the Bird's Nest stadium and aquatic venue Water Cube.
"We now welcome athletes from around the world to come to the Games," said Chen.
"We will try to satisfy the needs of people from different cultural and religious backgrounds. We hope you will like the facilities and services, and achieve desirable results at the Games," she said.
The Chinese delegation was the first to check in by raising its national flag in the village. Athens Olympic 110 meters hurdles champion Liu Xiang and NBA star Yao Ming were among about a hundred athletes who were present at the ceremony.
The village houses about 16,000 athletes, coaches and their entourage coming for the Olympics. It contains a main restaurant that can feed 5,000 people, teahouses, coffee shops, a barbershop, post office, shops, library, a fire station and a clinic.