Chinese national treasure Yao Ming still believes China is capable of achieving its goal of making the top six at the Olympics next month despite its tough draw.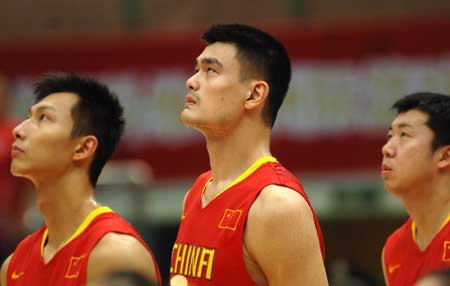 Yi Jianlian (L) ,Yao Ming (C)and Wang Zhizhi (R) stand at the opening ceremony of the game against

Angola

at the Stankovic Cup Olympic warm-up tournament in

Hangzhou

, July 19, 2008.
 [Agencies]
The draw became even tougher after two Group B qualifiers were decided on Sunday; 2006 World Championships runner-up Greece and Dirk Nowitzki-led Germany will both pose considerable obstacles for China.
But the 2.29m NBA all-star center, who returned from injury at the Stankovic Continental Cup in Hangzhou last week, said China's goal would not change despite the unlucky draw.
"This is the worst draw I can ever imagine," said Yao, who helped China to victories over youth teams from Serbia and Russia before losing to Angola 71-70 on Saturday. "The other teams are very strong, but our goal stays the same."
Germany and Greece emerged from the Olympic qualifier in Athens and will join world champion Spain, the United States, African champion Angola and China in Group B.
The top four teams in each group will advance to the quarterfinals, meaning China will have to win at least two games if it hopes to advance.
But Yao, who only began practicing with the national side earlier this month, is confident.
"I am very sure we can beat Angola. We lost to them in Hangzhou, but we were not in our best shape last week," he said. "Their players are not very competitive, and I don't think they are able to pose us any real threat at the Games.
"We are not afraid of Germany either. Yi Jianlian has improved tremendously after playing one season in the NBA and he can limit Nowitzki. And I can take care of Chris Kaman."
The tournament in Hangzhou was Yao's first action since suffering a stress fracture in his left foot while playing for the Houston Rockets in February.
He showed signs of his dominant self, but he also turned the ball over frequently as the team struggled to adjust to having him back on the floor.
"The entire team is doing as much as we can to adjust to him," said Yi. "Personally, for me, I need to support him better."