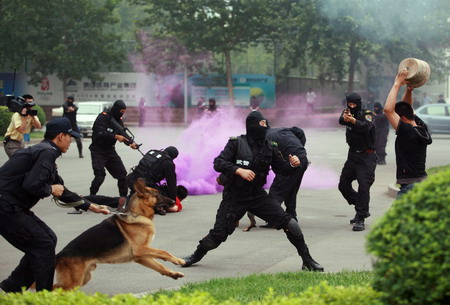 Police arrest "terrorists" during the "Taishan Mountain 2008" drills in Jinan, East China's Shandong province in this June 30, 2008 file photo. [Xinhua]

The Eastern Turkistan Islamic Movement (ETIM) poses a real threat to the Beijing Olympics because investigations show it has been plotting terror attacks on venues, a senior security official has said.
"It's not imaginary. We have been focusing on the ETIM and it has been labeled a terrorist group not only by our country, but also the international community," Ma Zhenchuan, director of the security command of the Beijing Games, said.


Ma Zhenchuan
"Intelligence reports show the group has been planning to carry out terrorist attacks during the Games," Ma told China Central Television (CCTV) over the weekend, stressing that his command had already worked out detailed counter-terrorism plans.
Police in Kashgar in the Xinjiang Uygur autonomous region said last week that they had busted 12 wings of transnational terrorist groups, including the ETIM and the Hizb-e-Tahrir, this year.
Earlier this month, the public security bureau in Urumqi, capital of Xinjiang, held a press conference to announce that five "terrorist groups" that were hatching plots to attack Games venues had been smashed and 82 people detained.
Police have destroyed 41 bases where Islamic militants used to get training, too, the bureau said.
Related readings:


 Beijing airport to adopt special security checks


 Olympic co-host city implements special airport security checks


 Olympic co-host city implements special airport security checks


 Three 'defence lines' set up to tighten Olympic security

Ma, however, warned that thwarting the ETIM does not mean safety because it is just a part of the terrorist threat to the Olympics.
"We have been cooperating with the security authorities of all participating countries" to thwart any plot to disrupt the Games.
Security and information officials of more than 80 countries have been collaborating with their Chinese counterparts to counter possible terrorist threats, the Beijing Daily has quoted an Olympic security official Kou Bo as saying.
Beijing has beefed up its security measures, including forming 40 anti-terrorism units with 188 members in the city alone.
The major tasks of the units will be to prevent terrorists from launching biological, chemical, nuclear or other radioactive attacks and bombings, Xinhua has reported. The units are on 24-hour duty from July 1.
The city has mobilized about 110,000 security guards plus more than 1 million residents and installed 300,000 cameras to help detect security threats, Ma said.
Armed policemen will patrol downtown and suburban Beijing to deter terrorists from launching any attack.
Security checks have also been tightened in all provinces, regions and other cities, as well as airports, train stations, bus depots and all entry and exit points.