BEIJING - When He Zhenliang, a then member of the International Olympic Committee's Executive Board, presented the last statement of the Beijing's 2008 bid on behalf of China in Moscow on July 13, 2001, he and the Chinese people were already determined to live up to their words.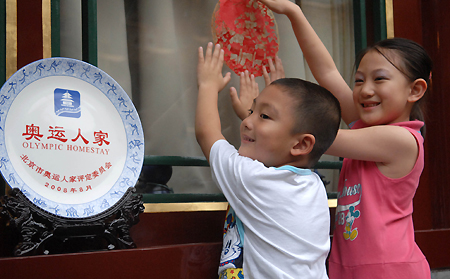 Zhu Rongjing (R) and Zhu Youyi paste a paper-cut on a window at their home, an "Olympic Homestay" household, in Shishahai, downtown Beijing, July 11, 2008. [Xinhua] 
"Choosing Beijing as the host city for the Olympics, you will bring the first ever Games in Olympic history to a nation containing one-fifth of the world's population, and 1.3 billion Chinese people will dedicate their efforts to the Olympic Movement," said He.
"If you award the chance of hosting the Olympics to Beijing, I can assure you that seven years later you will be proud of the decision you make today."
Related readings:

 Beijing sizzles in preparation for Olympics


 Health supervisions enhanced for Games preparation

 Authorities ratchet up fight for better air quality


 Balance vital in final Games preparation, IOC member
Seven years after He made the promise, the Beijing organizers have turned the bid into reality.
Unlike that of previous Olympics, Beijing's prep work has kept to plan and some stadiums and infrastructure have even been finished ahead of schedule.
The city has spent US$40 billion on infrastructure, including a new airport terminal and subway lines, as well as US$2.1 billion to cover the cost of running the Games.
The torch relay, now progressing on Chinese soil, is the longest ever in the Olympic history, lasting 130 days and covering 137,000 kilometers (85,000 miles) worldwide.
The holy flame was also carried to the top of the Mt. Qomolangma for the first time in history, a grand ascent hailed by the whole world as heroism.
Even after the massive quake rocked southwest China's Sichuan province on May 12 and already claimed around 70,000 lives, the organizers quickly picked up themselves from mourning and continued the fine-tuning on the Games.
"The Chinese people have pledged to the world to host a successful Olympic Games. To honor those killed in the earthquake, my colleagues and I feel obliged to make the Beijing Olympics a great success," said Wang Pingjiu, a staff member of the Beijing Organizing Committee for the Olympic Games (BOCOG).
Beijing subway passengers have been receiving security checks starting from June 29 as China beefs up security.
National-level anti-terrorist drills were launched to prepare the security forces against chemical attacks, hijacking and other possible contingencies. Sniffer dogs will be brought into the capital to help detect explosives.
Beginning from June, the country's postal service has suspended mailing parcels containing liquids until October 31, following a previous liquid ban introduced in April on carry-on baggage in domestic flights.