The yard outside the International Broadcast Center (IBC) resembled a dockyard Tuesday, as forklift trucks shifted boxes filled with broadcast equipment.
Chinese and American teams were unloading their equipment from two pink containers, which belonged to NBC, the largest broadcaster of the Beijing Games.
"That's (only) two of a hundred containers we've shipped from the US," John Fritsche, senior vice-president of NBC Olympics, told China Daily.
Although the IBC officially opened Tuesday, not all press media were allowed to enter the 90,000-sq-m compound, which will return to being the north wing of a convention center after the Games.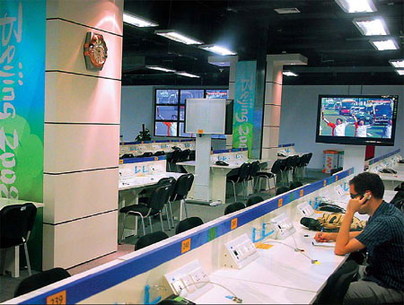 A man makes a phone call at the Olympic press center on its opening day in Beijing July 8, 2008. [China Daily]
NBC technical staff inside their studio at the IBC said they have been working there for the past two months.
"We are progressing at a nice pace," Fritsche said.
"The IBC is in good shape, but we still have a lot of work to do at the venues."
"The BOB (Beijing Olympic Broadcasting Co) is expert at this. They always provide a wonderful service," he said.
NBC's studio is marked in pink on a map inside the center, and it is clearly the largest, far bigger than the home broadcaster Chinese Central Television (CCTV).
Other major TV networks including Britain's BBC, Germany's ARD and ZDF, Italy's RAI and France's TV1 and TV2 have also moved in.
During the Games, there will be 16,000 accredited broadcast personnel in 90 studios in the building, making it, effectively, the largest TV station in the world.
The various studios are separated by lanes and 2-m-tall walls decorated with Chinese paper-cut window patterns.
German technicians drove down the lane on the top of a double-decker truck to pick up equipment.
Desks of the terminals machines of the official INFO 2008 and Commentator Information Service were also put up in the center.
Outside the IBC, a seven-story multifunctional broadcast tower, dubbed the "Ling Long Pagoda", is the highlight of this year's Olympic coverage.
Networks including the BBC and CCTV will broadcast live programs from their studios on the tower, which stand just a short distance northwest of the Bird's Nest.
Television cameras are able to move 360 degrees from inside the studio.