Having a "green lung" in the center of Beijing was difficult to imagine a few years ago. But the opening of the huge Olympic Forest Park just north of the Bird's Nest stadium after the Games will be just that.

The 7.7 billion-yuan ($1.12 billion) park opened its doors to a small group of visitors Tuesday, the first of a five-day period. The visitors strolled among the park's lush green vegetation, taking in the fresh air.
Employees at the park joked the fresh air would add 10 years more to their lives.
"I really enjoy walking along the wetland. It has to be the biggest one in a downtown area of China," Gao Xichen, who runs the park, said.
At one point, visitors can walk below the water surface of the wetland through a glass corridor, and observe the different plants at close range. They can also listen to Chopin's Mazurka being played through concealed speakers.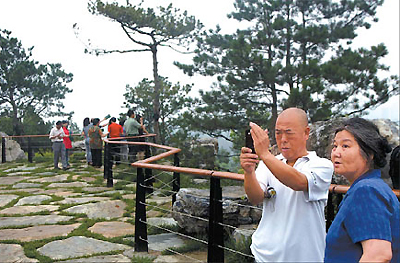 A man takes pictures with his mobile phone at Olympic Forest Park yesterday, the first day of a trial run. [China Daily] 
More Photos

"Amazing! We can stand right next to lotus flowers," a woman said. "We can also see the fish swimming."
Gao said: "The animals love it here, too. We have got hedgehogs and squirrels, we don't know where they come from."
The park is the size of the Summer Palace and the Yuanmingyuan (old Summer Palace) in the west suburbs of Beijing combined.
An overpass covered in creepers links the south with the north of the park where the tennis, hockey and archery venues are located.
More than 500,000 plants of 180 species cover most of the park. The plants are from neighboring regions.
One 60-ton rock is from Mount Taishan in Shandong province to signify eternity.
There are also 27 hectares of man-made lakes filled with purified water.
The park will not open fully during the Games. Instead, it will be open for 12 hours a day for about 5,000 Olympic members and athletes, and 20,000 local residents who have received tickets. Tickets to the Olympic Games will not be valid.
It will cost about 100 million yuan a year to maintain the park, its deputy director, Guo Liang, said.
The ticket price for park visitors after the Games has yet to be determined.
"We definitely don't want to make a profit. It will be affordable for everyone," Guo said.
The park is likely to open to the public no later than the May Day holiday next year, he said.