Although Dane Tine Rasmussen has shone in the past year and is regarded as chief nemesis to China's women's badminton players at the Beijing Games, a group of overseas Chinese also have the ability to become giant killers.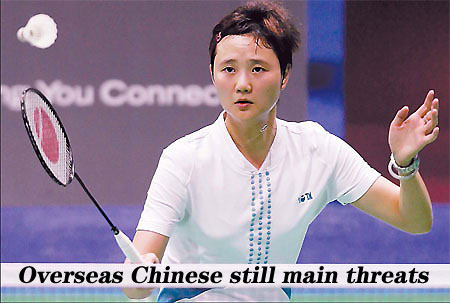 Hong Kong's Wang Chen, a former China national team member, is seen as the biggest threat to the home shuttlers at the Beijing Games. [Agencies]
Chinese or overseas Chinese occupy all positions in the world's top 10, except for those held by world No 3 Rasmussen and No 10 Wong Mew Choo of Malaysia.
Xie Xinfang and Lu Lan are ranked No 1 and 2 respectively and make up China's chief gold hopes.
Compatriot Zhu Lin and veteran Zhang Ning are No 4 and No 7 and will have to fight for the last ticket to the Games.
Former Chinese Pi Hongyan, who has represented France for the past seven years, remains as world No 5 thanks to her experience and consistent performances.
Born in Chongqing in 1979, Pi was once called into the Chinese national team and also won third place at the National Games in 2001 before moving to France the same year.
Pi played badminton for France at the 2004 Athens Olympics, losing to Seo Yoon-hee of South Korea in the round of 32.
She won the Aviva Open in Singapore in 2006 and 2007, as well as the singles title at the French National Badminton Championships.
She also won the bronze medal at the 2008 European Badminton Championships.
Another overseas Chinese, Xu Huaiwen, born in Guizhou in 1975, became a member of the German national team in 2003.
Xu played at the 2004 Summer Olympics, losing to Zhou Mi of China (now a member of Hong Kong association) in the round of 32.
The year 2006 began as a successful one for Xu, with a win in the Swiss Open in January and the European Championships women's singles in April.
But Xu was defeated by Xie in the semi-final match of the World Championships the same year.
She bounced back to win gold at the 2008 European Badminton Championships.
Another former Chinese Yao Jie, now a member of the Dutch team, was once a top ranker but is now languishing at world No 18.
"Though they are not at their prime time any more, they are still able to pull off upsets against Chinese," said China's head coach Li Yongbo. "We know our players very well so we can not look down upon them."
Threats from Hong Kong