Yao Ming is as excited as anyone about the upcoming Olympics on home soil. But the basketball superstar is worried that, with only 42 days left until the opening ceremony, he will not have enough time to tune up.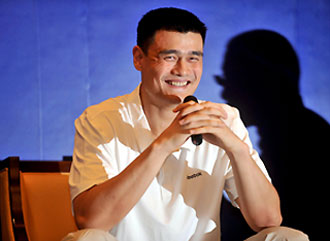 China's star basketball player Yao Ming laughs during a press conference in Beijing,June 26, 2008. [Xinhua]
"I've been waiting for such a great chance on home soil for a long time, but I need more time to get prepared," the 2.26 m center said at a press conference in Beijing on Thursday.
Yao has yet to fully recover from the surgery he underwent in March to repair his injured left foot. Still, the Houston Rockets all-star center will start training with the national team today, less than two days after he arrived in Beijing.
 "I have no time to take a break or to recover from the jet lag," Yao said. "I will start training with the national team tomorrow. It feels great to be home again."
It is Yao's second trip back to China since he suffered a stress fracture in his foot in February. He was also here in April to receive some Chinese traditional medicine treatment.
His recovery since then has gone well - on Tuesday an X-ray showed his injury is 80 percent healed.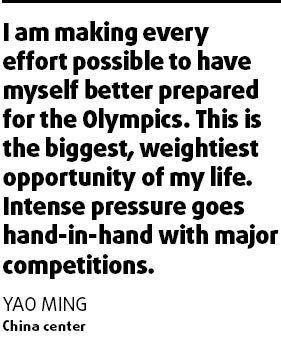 He still practices individually, but says he will return to full-court scrimmages sometime next month.
"It's healing very well and I think I will join the team's full-court practices in mid July."
But Yao was not sure if he would be ready for the 2008 Stankovic Continental Champions Cup, which tips off on July 17. It would be his first official match since the injury.
"The chances are 50-50," Yao said. "But I will try to compete in some warm-ups before the Olympics. The best way to get in basketball shape is on the court."
The 27-year-old icon is shouldering the expectations of an entire nation hoping he will lead China into at least the top six in Beijing. It would be the best result China has ever achieved at an Olympics.
Well aware of the responsibility he bears, Yao has begun his Olympic preparations as early as possible.
"I am making every effort possible to make myself better prepared for the Olympics," he said.