A powerful smash from doubles shuttler Xie Zhongbo sealed China's third consecutive Thomas Cup in Jakarta May 18. But for 26-year-old Xie, the win meant much more than a victory.
It was a timely comfort for his quake-stricken hometown Sichuan - in his own sporting way.
The 1.90-meter sinewy man's eyes welled up with tears later on the podium when he lifted the Thomas Cup above his head.
"I just want to win the Cup for my hometown compatriots. I hope they can get through the disaster," he told Titan Weekly after the award ceremony.
Xie, however, is not alone, in offering comforting words to help people affected by the magnitude 8.0 earthquake on May 12. The entire Chinese sports world has showed the same keenness to help as they do in winning on venues.
Athletes open their wallets
Xie is part of the national badminton team, which donated 300,000 yuan when they were competing for the Thomas and Uber Cup (the world men's and women's team title) in Jakarta, Indonesia. All the team members stood in silent tribute for the earthquake victims before the men's finals.
In Beijing, around 500 Chinese athletes from 22 national sports teams have also extended a helping hand, financially and spiritually.
They gathered in the General Administration of Sport of China two weeks ago at a donation ceremony, where money from individual athletes, coaches, national teams, sports clubs, and the sports administrator put money into the donation box.
Olympic and world champion hurdler Liu Xiang, China's top sports star spoke at the ceremony on behalf of his fellow athletes.
"Our country and people have always been caring and supporting us. Though we are not able to go to Sichuan, we must do our part when needed," said the 25-year-old, who together with his coach Sun Haiping donated 500,000 yuan, according to a Xinhua report.
The star hurdler later donated another 3 million yuan under his own name through his father in Shanghai.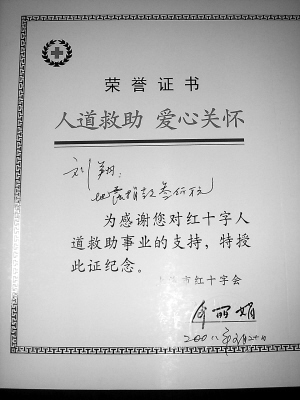 A certificate issued by the Shanghai Red Cross Society indicates hurdler Liu Xiang donated 3 million yuan. [sohu]
National swimming head coach Zhang Yadong was among the donors. He said the incomes of the different athletes vary from one to another, but the money represents their best wishes, no matter how much they donated.
Incomplete statistics of the donations from China's sports world (until May 21, 18:00, Beijing time)
| | |
| --- | --- |
| International Olympic Committee (IOC) | $ 1 million |
| BOCOG | 5 million yuan |
| General Administration of Sport of China | 5 million yuan |
| Yao Ming (basketball, in NBA) | 2 million yuan |
| Gymnastics administration center  | 1 million yuan |
| National table tennis team | 1.54 million yuan |
| Retired Chinese sports stars | 1 million yuan |
| National man's and women's basketball teams | 400,000 yuan |
| Wang Zhizhi (basketball) | 100,000 yuan |
| Yi Jianlian (basketball) | 100,000 yuan |
| Track and field sports administration center | 1 million yuan |
| China Football Association | 600,000 yuan |
| Zheng Zhi (football, in Charlton Athletic of Britain) | 130,000 yuan |
| Liang Wenchong (golf) | 250,000 yuan |
| Li Yongbo (national badminton head coach) | 100,000 yuan |
| Liu Guoliang (national table tennis head coach) | 100,000 yuan |
| Wang Hao (table tennis) | 100,000 yuan |
| Wang Liqin (table tennis) | 100,000 yuan |
| Guo Jingjing (diving) | 100,000 yuan |
| Ma Lin (table tennis) | 100,000 yuan |
| Wang Nan (table tennis) | 100,000 yuan |
| Chinese Tennis Association | 100,000 yuan |
| National badminton team | 100,000 yuan |
| National rowing team | 75,000 yuan |
| Zhang Yining (table tennis) | 50,000 yuan |
| Zhang Ning (badminton) | 30,000 yuan |
| Peng Shuai (table tennis) | 50,000 yuan |
On the other side of the Pacific Ocean, NBA star Yao Ming, who makes money from highly lucrative advertisements, gave 2 million yuan to the disaster areas and has pledged to play a role in the disaster reconstruction, according to his agent in Beijing.
"Two million yuan was my biggest donation till now. I donated it to my country and the Sichuan residents," Yao told Oriental Sports Daily, ruling out Internet rumors that he donated $1 million to the 2005 Hurricane Katrina disaster areas.
According to the newspaper Chengdu Shangbao, at that time, Yao was still on an NBA rookie contract in 2005, earning less than $4 million that year. He joined the Rockets' team donation, accounting no more than $1 million in total to the hurricane disaster.
The 2.26-meter center has shot a public service announcement calling for help for the Sichuan disaster areas, which will be aired during the intervals at the NBA playoffs games and also posted on the league's official website.
Psychological aid is in time
Double Olympic diving champion Guo Jingjing said she and her teammates were determined to win more golds and have the Chinese flag raised more times to inspire national spirit before they left for a tournament in Britain last week.
Then they did - they won five golds among the eight on offer.
Retired Olympic and world champions paddler Deng Yaping, diver Gao Min, chess player Xie Jun and speed skater Yang Yang went to the disaster areas to give psychological aid, especially to the quake-affected children.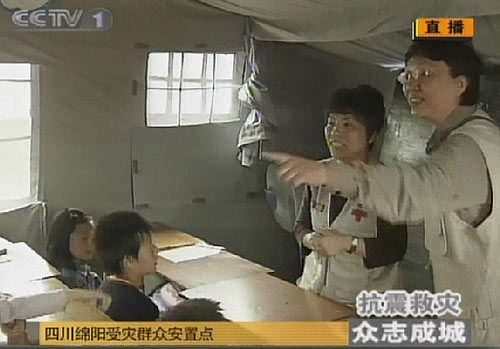 A CCTV grab shows former Olympic table tennis champion Deng Yaping (second right) gives psychological aid to children in Mianyang City, one of the worst-hit areas in Sichuan May 20. [sohu]
"Auntie Deng, I want you to win the gold in Beijing," yelled some of them.
With tears in her eyes, the four-time gold medalist Olympian was speechless, standing in front of the children beside their collapsed homes.
"Sports is a great thing. When people participate in sports, they can forget sadness temporarily," Deng said to www.Chinanews.com.
Olympic torch makes way for national mourning
The Olympic torch relay resumed after it was suspended for three days for national mourning last week.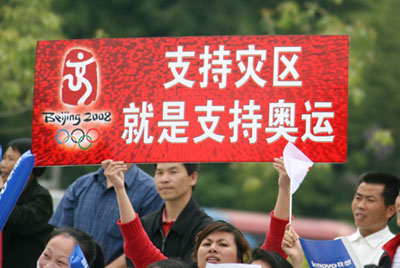 A local resident holds a banner reading "to support the quake disaster areas means to support the Olympics" during the Jinggangshan leg of the Olympic torch relay. [Xinhua]
"One Home, One Concern," reads a homemade slogan in support of the rescue efforts in Sichuan beside the Olympic Games slogan, "One World, One Dream" at the bank of the West Lake when the torch was traveling in Hangzhou of Zhejiang Province.
Banners conveying similar messages, as well as donations and tribute ceremonies accompanied the torch all the way from Longyan to Hangzhou, passing Ruijin, Jinggangshan, Nanchang, Fuzhou, Shaoxing since the quake hit until the Ningbo leg, which was postponed on May 19.
And now the Sichuan leg of the torch relay has been rescheduled to August 3-5, the last destination before it goes to Beijing and the National Stadium for the Olympic opening ceremonies.
"To win more golds will be a great inspiration for the quake-affected compatriots, and that is our only task," said Feng Jianzhong, deputy director of the sports administration after last Monday's national mourning.