NEW YORK -- Nearly 10,000 Chinese students, scholars and Chinese Americans held a peaceful rally Sunday to support the Beijing Olympics and denounce attempts to sabotage the sporting event.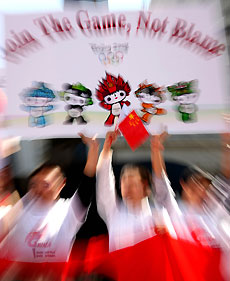 Chinese rally to support Olympics in New York Sunday.
With both Chinese and American national colors and the Beijing Olympics banners, the students from New York, Connecticut, New Jersey, Illinois, Massachusetts and other neighboring states, chanted slogans such as "Join the Beijing Olympics, feel a real China," and "Free Olympics from Politics."
The rally, first initiated by a group of Chinese American students, won widespread support among Chinese communities around the United States.
During the rally at Foley Square in lower Manhattan, the Beijing Association of New York hired two small airplanes flying streamers that read "Go to 2008 Beijing Olympics" and "CNN, Cafferty, Shut up!"
The second streamer was a response to CNN news commentator Jack Cafferty's derogative description of Chinese as "goons and thugs" on April 9 in a news program covering the Olympic torch relay in San Francisco.
In addition to the Beijing Association of New York, a dozen other organizations of Chinese Americans were also present at Sunday's rally.
"We live in one world, a world for peace, stability and harmony. We pursue one dream, a dream of peace and development," said George Hua, president of the New York Association for Peaceful Unification of China.
"Beijing welcomes all with smiles and warmth," Hua said. "Join us in Beijing, and enjoy the Games!"
Olympics Special coverage:
Related readings:


 Chinese Canadians in Vancouver rally to support Olympics


 Overseas Chinese rally in London


 Thousands rally in Europe, US


 Chinese expatriates in France rally in support of Games


 Overseas Chinese rally in London, Paris
Imbued in a festive aura, the rally featured live performance of the Chinese national anthem, popular Chinese songs and Olympic songs, with the big crowd chanting the chorus.
Sunday's rally was one of a string of similar actions taken by the Chinese community around the world following violent disruptions of the overseas legs of the Olympic torch relay, and the distorted coverage of the March 14 Lhasa riots by some Western media outlets.
"There is no way we're going to sit still when a small number of extremists try to hijack the Olympic Games for their own political agenda," said Xu Ming, a Beijing University graduate on an MBA program at Duke University.
"There is no way we keep silent when the so-called 'activists' viciously attack our torch-bearer in a wheelchair," Xu said.
"Just like any other country in the world, China is not perfect," he said. "We welcome criticism, not hostility; we welcome human rights, but not disrespect; we love freedom, but not anarchy; we seek out truth, but we don't appreciate media distortion."
Thong Yan, a 62-year-old cook who has lived in the United States for more than 20 years and worked at the Jacobi Medical Center in the Bronx before retiring, said he was outraged by Cafferty's insulting comments, and could not go to sleep for several nights.
"I was extremely outraged," said Yan, who came to the rally to have his voice heard despite an injured waist. "I would still come even if I had no feet!"
Chen Wenhan, a 71-year-old from Jiangsu, China, visiting his son in New York, jumped at the chance of the rally.