BEIJING-- With 100 days to go from Wednesday before the curtain rises on the 2008 Olympic Games, the organizers are busy fine-tuning for perfect staging of the world's sporting spectacle.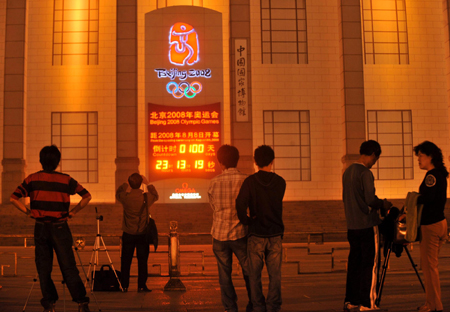 Tourists take pictures of the Count-Down Board for The Beijing 2008 Olympic Games in front of the National Museum in Beijing, April 29, 2008. [Xinhua] 
Construction of venues, easing the city's traffic congestion and efforts to clean up the air are all on target for the August 8-24 event, and International Olympic Committee officials have repeatedly voiced confidence that the athletes were going to experience a top class Games here this summer.
"There is every reason to believe that we will see here a gold-medal performance in August, also superb organization of the Olympic Games," Hein Verbruggen, chairman of the IOC's coordination commission for the Beijing Games, told reporters this month after his last inspection visit to the Chinese capital.
IOC president Jacques Rogge also predicted the Beijing Games to be a "great success".
"Here and there are small details to be fine-tuned but I am saying that the level of preparedness ... is really excellent and ... I am optimistic that the Games will be a great success," said Rogge.
The smooth construction of Olympic venues is a major source of confidence.
The National Stadium, known as the Bird's Nest for its giant latticework structure of metal girders, opened and hosted its first official event on April 18 - a race-walking meet, putting an end to the city's massive construction campaign that kicked off in December 2003.
Organizers said that the final touches on the 91,000-seat National Stadium won't be complete until next month due to the extra work needed to prepare it for the August 8 opening ceremony. The iconic Olympic venue will also stage the closing ceremony and the athletics competitions.
The nearby National Aquatics Center, known as the Water Cube, was completed in January and hosted its first test event in February - the China Open swimming competition. The box-like venue with three pools below ground level is made up of a steel skeleton sheathed in a Teflon-like plastic membrance that mimics bubbling water.
Fears about risks of competing outdoors in Beijing are dwindling amid the continual improvement of the air quality. According to the Beijing Environmental Protection Bureau, the city notched up 67 "blue sky days" from January to the end of March, 12 more than the same period a year earlier and the highest in nine years.
Since being awarded the 2008 Games seven years ago, Beijing has engaged in an aggressive effort to clean up its toxic haze. The city has spent nearly more than 15 billion U.S. dollars on anti-pollution measures such as moving factories, adding subway lines, upgrading boilers and converting coal-heated homes to electric.