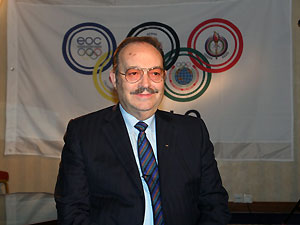 Mario Vazquez Rana [BOCOG]

The head of the organization representing the 205 national and regional Olympic committees has dismissed any call for a boycott of the Games, saying politicians who are pushing for it are making an error.
"We definitely say 'no' to any boycott and 'yes' to the Olympic Games," Mario Vazquez Rana, president of the Association of National Olympic Committees (ANOC), said.
The 16th general assembly of the ANOC opens in the Chinese capital today - it is a tradition for the organization to hold its biennial assembly in the Olympic host city months before the Games - after a board meeting on Saturday.
The three-day assembly in Beijing "has attracted more than 700 officials from all the NOCs, and it shows that all of us support the Beijing Olympic Games," said Vazquez Rana, who set up ANOC in 1979 and has since been the head of the organization.
Related readings:


 British police arrest 25 torch relay offenders


 ANOC condemns Olympics boycotting


 Attempts to sabotage torch relay doomed to fail


Torch relay burns through city of 80 champions

"The representatives will show their support to the Beijing Games through every effort in every aspect during the meeting," he added.
Responding to some organizations raising the issue of a boycott of the Beijing Games or the opening ceremony due to the riots in Tibet, Vasquez Rana insisted it was not a matter for the Olympics, saying that the Games should be held without any political interference.
"I hope very much that political associations or governments do not use the Olympic Games as a pretext to launch a boycott or try to obtain any benefit out of it," he said.
"It is very clear that we follow one single idea, one single philosophy: To hold the Games for the benefit of our young athletes. That's why I believe not only the Games in Beijing, but all Olympic Games must be free of any political interference."
He also stated that athletes have the greatest freedom of expression but should be guided by the Olympic Charter.
"An athlete who steps outside the rules of the Olympic Charter is committing a mistake, which she or he knows not to do," he said.
"Until now, we have not received any information on any athlete who intends to do something improper or wrong during the Games. In fact, all of them are desire to see a great Games," he said.
The Olympic Charter, which is drawn up by the International Olympic Committee, outlaws political acts, saying: "No kind of demonstration or political, religious or racial propaganda is permitted at any Olympic site, venue or other area."
"According to what I know, the preparations for the Beijing Games are right on track, which also reflects our expectations of a successful Games," he said.