INDIAN WELLS, California, March 28 - Although the 2008 tennis season is barely three months old, Swiss world number one Roger Federer and other leading players are already turning their thoughts towards the Beijing Olympics in August.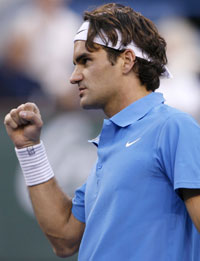 Switzerland's Roger Federer celebrates his victory over Spain's Guillermo Garcia-Lopez at the Pacific Life Open tennis tournament in Indian Wells, California March 16, 2008. [Agencies]
For Federer, the Olympic Games are close to
the grand slams in importance while Australian Open champion Novak Djokovic believes they might rank even higher because they take place only once every four years.
American Lindsay Davenport will never forget the stirring memories of her triumphant debut at the Atlanta Games in 1996 and Russian Svetlana Kuznetsova says she would prefer to win an Olympic gold medal this year over any of the grand slams.
"For me, it's a big priority of the year," Federer, a winner of 12 grand slam titles, told reporters during the Pacific Life Open at Indian Wells this month.
"The (ATP) tour actually bases its entire schedule around the Olympics Games and I follow that scheme. I want to play in this year's Olympics and I'm going to be there.
"I've already had two great experiences," the 26-year-old Swiss added, referring to Sydney in 2000 when he lost the bronze-medal match to Frenchman Arnaud Di Pasquale and Athens in 2004 when he lost to Czech Tomas Berdych in the second round.
"For me it is already, but maybe some players and some fans need more convincing that the Olympics is big for tennis."
Serbian world number three Djokovic, who clinched his eighth ATP title by beating American Mardy Fish in the Pacific Life Open final last weekend, agrees.
"I rate them (the Games) probably on the top, one of the tops for sure," the 20-year-old said. "I mean come on, it's the Olympics.
ONLY ONCE
"You get to play grand slams every year, four grand slams. The Olympics you get to play one time in four years and who knows what will happen in four years for us?
"So I will not risk that and I'll be very honoured and privileged to participate in such an event, an event with the most tradition in sport."
Russian former world number one Maria Sharapova has long cherished competing at the Olympics.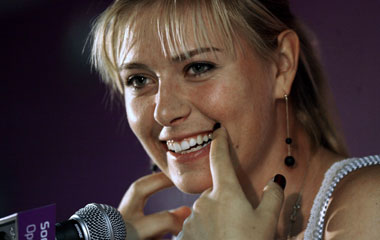 Maria Sharapova of Russia smiles during a news conference at the Sony Ericsson Open tennis tournament in Key Biscayne, Florida March 26, 2008. Sharapova has pulled out of the WTA Tour stop because of a shoulder injury. [Agencies]
"It's been a dream of mine ever since I was a little girl, so it's been one of my priorities for a very long time," the 20-year-old said. "The Olympics comes around only once every four years and the U.S. Open is there every single year.
"One of the things I'm really looking forward to is the opening ceremony and walking with all the athletes from my country in front of thousands of people."
WTA Tour veteran Davenport was a gold medallist in the women's singles at the 1996 Atlanta Games, two years before she clinched the first of her three grand slam titles.
"It was the first big thing I won and a huge honour," the former Wimbledon, U.S. Open and Australian Open champion told Reuters.
"When I won the U.S. Open in 1998, it seemed to give me more validity as a player. Those two were certainly big turning points in my career and it's hard to compare them.
"I can't wait to go back in early August. It's been on the calendar for my family for a long time. My aspiration is to do my best to win any medal. I really don't care.