QINGDAO: As a sponsor of the 2008 Beijing Olympics, Tsingtao Beer is preparing to raise its glass in a toast to the entire world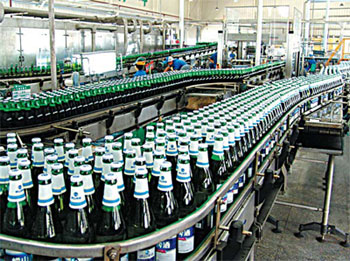 Production line at Tsingtao Brewery Co Ltd. [China Daily]
"The Olympics provides a rare chance for Chinese brands to gain world appreciation and build the image of 'made in China'," said Jin Zhiguo, chairman of Tsingtao Brewery Co Ltd.
Tsingtao Brewery launched its Olympics branding strategy the moment it became a sponsor of the Games, including a pledge to supply high-quality products for the Games, publicizing its home city and namesake Qingdao and preparing to pass along the Olympics spirit after the world's biggest sporting event is over, Jin said.
"We will incorporate the spirit of the Olympics into our marketing strategy for Tsingtao beer," he noted. "We are confident that we can provide better service to the Olympics than any other international brand."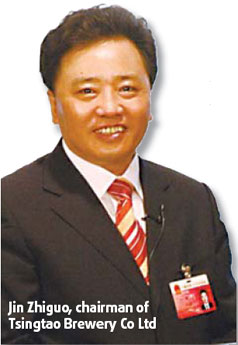 Tsingtao Beer, founded more than 100 years ago, has developed into a global brand with exports to more than 70 countries and regions. It is China's top brewery in sales, export revenue, brand value and market share.
It now has 50 breweries in 18 provinces or cities and 13 percent of the market in the world's most populous country.
To spread the Olympics spirit, the brewery collaborated with Hunan TV for a series about the Games launched in 2006.
The program attracted tens of thousands participants in six cities - Nanning, Fuzhou, Shenyang, Guangzhou, Changsha and Nanjing - and was one of the most influential Olympics-related events in the year.
In partnership with CCTV2, Tsingtao Brewery also organized a series to introduce China's most beautiful cities to the world. Broadcast by more than 120 media outlets, the program enhanced the image of Chinese cities globally.
Olympics caravans begun by the brewery in 2006 have to date visited more than 180 cities across the nation to further enhance enthusiasm for the Games.
The company has popularized the sporting spirit as a sponsor of other international events such as the China Tennis Open and the 2006 Winter Olympic Games in Torino, Italy.
In addition to building the image of its beer, the company also values pursuit of continuing innovation of its corporate structure, operations and technology, Jin said.
Tsingtao Brewery has invested more than 60 million yuan to implement environmentally responsible technology and ways to reduce energy consumption - and is now at the forefront of the domestic brewing industry.