Since returning to China in 2006, former NBA player Wang Zhizhi has been living in the shadows of giant NBA center Yao Ming and star rookie Yi Jianlian.
So when he was recently appointed by the IT giant Lenovo to be a torchbearer in the relay for August's Olympic Games, the 30-year-old was ecstatic.

"I do not really care where I am going to run," he beamed. "It's just a great honor to be named as one of the torchbearers."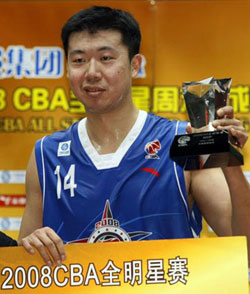 Wang Zhizhi poses with his 2008 CBA All Star MVP trophy after the all star weekend in Chengdu of Southwest China's Sichuan Province January 13, 2008. Wang was recently appointed by the IT giant Lenovo to be a torchbearer in the relay for August's Olympic Games. [Xinhua]
The appointment reminded him of past days when he was still the center of attention as an image ambassador during China's bid for the Olympics seven years ago. He was invited to go to Moscow where the International Olympic Committee voted for the host during its 113th session.
At that time, he was one of China's most influential sports figures - he made his mark as NBA's first Asian player when the Dallas Mavericks drafted him in April 2001.
But his future was thrown into doubt when he refused to come back to China to play for the national team a year later.
He was expelled from the national team that year, seemingly blocking his path to the Beijing Games.
But when he decided to return to China after four unspectacular seasons in the NBA to pursue his Olympic dream, everything had changed.
Yao soon replaced Wang as the best player on the Chinese team and is unquestionably the biggest sports star in China.
Even Wang's Chinese club Bayi lost its dominant touch - the seven-time Chinese Basketball Association champion failed to make the last four this season for the first time in league history.
Regardless, Wang said he just feels blessed to be a part of China's 2008 team.
"I am glad that I can be there to witness the Beijing 2008 Games," he said.
His vast experience will be a boon for the Chinese team, which already has world-class players roaming the paint in Yao and Yi. But Wang knows it won't be easy for China.
"For Chinese basketball, it's a tough road," he said of China's Olympic prospects. "We are still not a very strong team in the world.
"We are strong inside, but we still lack star players in other positions."
He rated China as one of the world's second-tier teams.
"I think we are moving up right now, but I have to say that other teams are also improving very fast."
Wang is optimistic that China will be able to break its record of reaching last eight in the Olympic tournament, a feat it achieved twice - once in Sydney 2000 and once in Athens 2004.
"Being a second-tier team does not mean we lack opportunity," he said. "We have the ability to beat some of the world's best teams.
"Either way, it will be a memorable moment for China during the Olympic basketball competitions in Beijing."