The differences between weightlifters and sharpshooters could not be more pronounced, but that won't stop those athletes from engaging in one of the fiercest competitions in Beijing this August - the battle to claim China's first Olympic gold on home soil.
The sharpshooters snagged China's first gold at the last two Games, but this year the stakes are considerably higher as both groups of athletes are eager to make their mark in the most important Olympics of their lives.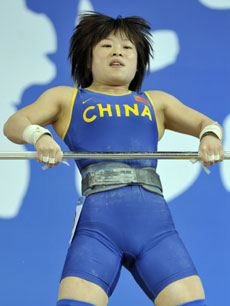 Wang Mingjuan competes to win the women's 53 kilograms category in the 2008 Good Luck Beijing International Weightlifting Invitational tournament, Jan. 22, 2008. Three-time World Championships 48kg winner Wang Mingjuan is the top god-medal contender for the Beijing Olympics. [Xinhua]
"It's a very interesting competition," said China's weightlifting boss Ma Wenguang. "I am not sure whether I should call it 'a battle', but it does exist, as the first gold means so much for the Chinese people and also the weightlifters."
Athletes from both teams have an equal chance to win the opening gold. Since Sydney 2000, shooting and weightlifting events have been held concurrently, but the shooters have won the race to gold both times.
The best chance for Ma's side came in Athens when the women's 48kg division - the Olympics' first competition - was held half an hour ahead of the women's 10m air rifle. Unfortunately for the lifters, two-time world champion Li Zhuo missed her golden chance allowing Du Li to become China's first gold-medal winner.
"I was really excited to see China win the first gold in Athens, because it was so special," Ma said. "Then I asked myself, 'When can my guys take it?' There is a lot of emotion in this gold medal.
"We have a better chance to do it now after another four-year preparation. I promise you we will field the strongest-ever team at the first weightlifting event of the Beijing Games."
China's weightlifting team already appears as strong as ever. Though the final Olympic roster won't be released until June, three multiple world titleholders are poised for a heated battle to secure berths for the home event.
Three-time World Championships 48kg winner Wang Mingjuan is the top gold medal contender. The 23-year-old lifter recently showed her powerful touch by winning a 53kg gold medal at the Good Luck Beijing 2008 International Weightlifting Invitational Tournament last week.
"I will compete in 48kg at the Beijing Games and I will try my best to win the gold there," she said.
Chen Xiexia, who rewrote three world records at the World Championships in 2006, will join Wang, as well as Yang Lian, another world record holder who missed the Athens Games with a wrist injury.
According to Ma, only six male and four female athletes are allowed at the Olympics. Other than the women's 48kg, China's potential medal events include the 53kg and 58kg divisions, which feature World Championships winner Qiu Hongmei and defending Olympic champion Chen Yanqing.
The 30-year-old Chen returned from a one-year retirement with a gold medal finish at the Asian Games in Doha, Qatar, in 2006. She is "still a dangerous athlete", as Ma said.
On the men's side, China has its sights on the 56, 62, 69 and 77kg divisions, with 56kg the best chance to win gold with world record holders Wu Meijin and Li Zheng.
"Nobody is guaranteed a berth so far," Ma said. "There is a great atmosphere within the team as our athletes know that no matter if you are a world champion or national team rookie, you have an equal chance to win the berth and also the medal at the Games.
"We will have some further consideration based on the National Championships, which take place in March and the Asian Championships in April.